VIZIO S4251w 5.1 Sound Bar Review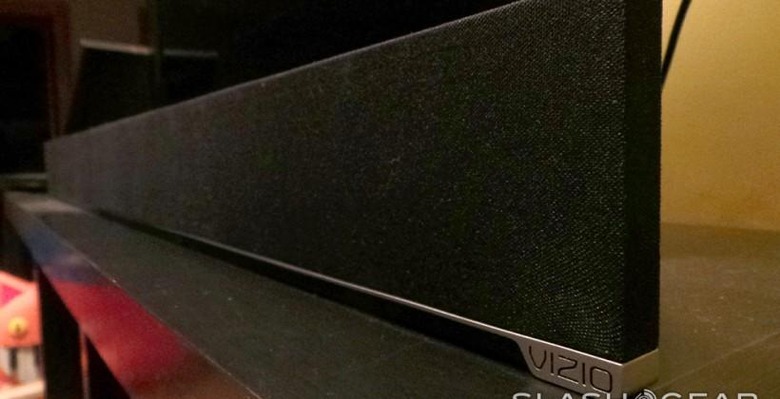 This week we've had a peek at the soon-to-market VIZIO S4251w 5.1 Sound Bar, a speaker unit that comes packaged with a wireless subwoofer, two satellite speakers, and the ability to connect wirelessly (or wired) to your HDTV. While several different wired connections are available, the main sound bar connects with the subwoofer using Bluetooth – and you're able to connect to your television using this system as well.
Hardware
What VIZIO delivers with this system is a fully ready-for-action system, the box containing both the cables for the speakers and the gear necessary for your to mount the speakers if you do so desire. Of course you've also got the option to set the bar at the base of your television if you've got it on a television tablet station, and your subwoofer certainly needs to sit on a flat surface.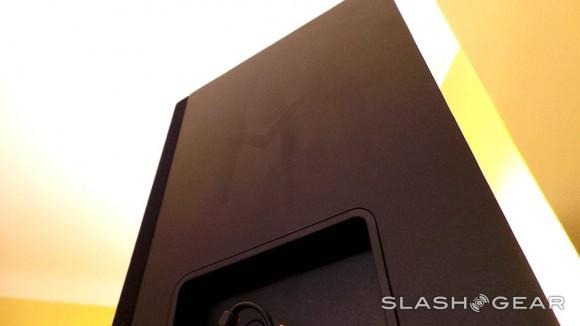 But your satellite speakers just beg to be hooked up to the corners of your room, angled directly at your head, and so forth. In the box you've got two satellite wall mount brackets with the attachment screws you'll need to mount the satellite speakers to them. These satellite speakers aren't wireless, you should note, each of them need to be connected to the sound bar in order to blast sound. The wireless connection exists between the subwoofer and the sound bar – up to 60 feet of space can exist between them – though the signal is best under 30 feet, and in the clear, too.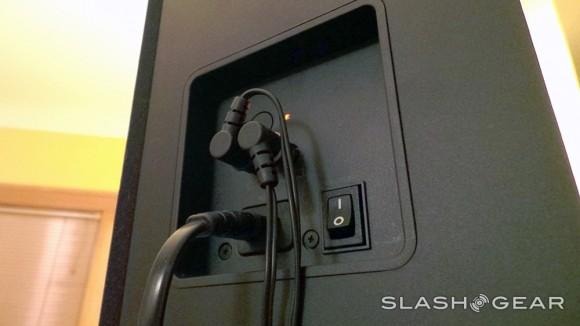 Once you have the wireless connection in place, each satellite speaker is connected to the subwoofer with a single RCA cable. The sound bar is also able to be connected to your television with as little as a single cable, if you like. The back of the bar has a USB port, a digital optical audio in, coaxial in, a single analog audio in port and a set of analog audio in ports.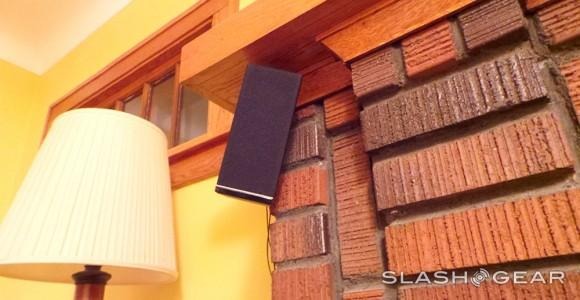 Each of these inputs are seen by the sound bar as a different option accessible by the set of buttons on the far left of the unit or through the system's remote control. Because of this, you're able to connect several devices to the bar at once, choosing between them if you've got a need for such a thing.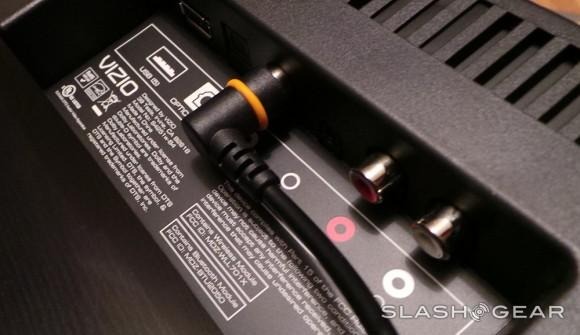 Button controls on the side of the sound bar include five separate clickers, one each for power, input, and Bluetooth input, with one button for volume up and one for down. You're able to "wake" the system from its low power "sleep" after it's not been in use for an extended time by pressing the power button or by tapping a volume up or down button. This set of buttons is easy to get used to, but we'd have preferred some physical differentiator between the set to more easily tap at once.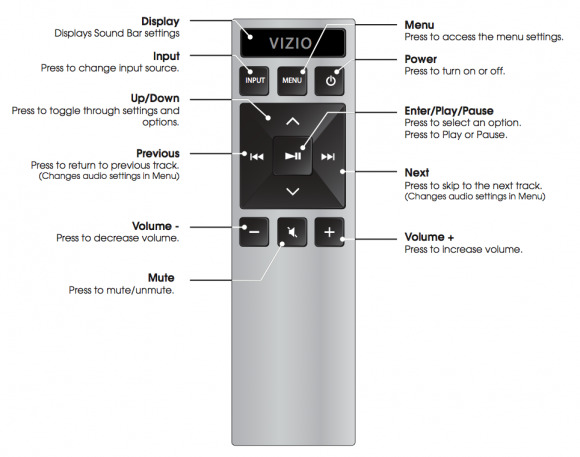 The remote control works with a digital display that contains one of our other – admittedly very few – complaints in that it doesn't seem to light up enough to be read in the dark. While it's nice to be able to see which option is being selected, in-the-dark movie adjustments will be limited to what you've memorized for controls. If that's just volume adjustments and track controls, you'll be good to go. The controller itself is a conveniently small size and has a soft-plastic bottom, making it a comfortable experience – and again, one easy to get used to for sound control.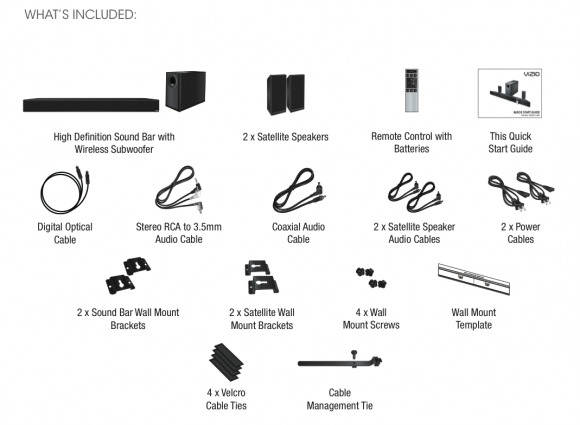 Sound
Each channel in this system's surround speakers works with 1 x 2.5" full-range driver. The subwoofer works with a 6" throw (high excursion) driver and the full system has 102dB sound pressure with what VIZIO says is less than 1% total harmonic distortion. The sound bar works with 3 channels, left and right, each of the three tweeters coming in at 3/4" each. This the system is rounded out with a set of Center Channel 2 x 2.5 full-range drivers.
You've got a pack of software compliments to the hardware delivery here with features like DTS Circle Surround, DTS TruVolume, and Dolby Digital / DTS Digital Surround for audio decoding. Needless to say, this system can get loud. There's really no arguing that.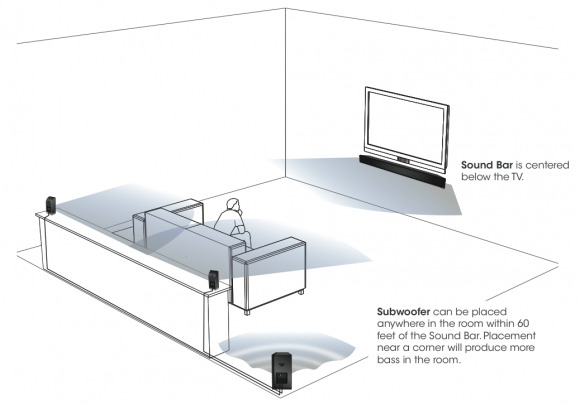 The delivery you're going to get with this setup depends a lot on the machine you've got feeding it, of course, but in testing each of the inputs with different devices – and not just televisions – we've found the end product to be generally well balanced. If you've got a child sleeping in the room next to your television attached to a VIZIO S4251w 5.1 Sound Bar system, you may have trouble finding a balance between too quiet and too loud.
Adjusting for bass, moving the sound around to the system's satellites, and taking a bit of time to optimize the sound for your chosen room will correct for this sort of situation. Also helping with this situation is DTS TruVolume – made specifically to provide a consistent volume no matter the media. Making sure you understand how to work with TruVolume as well as this system's adjustment abilities is vital for a superior sound experience.
Wrap-up
This system delivers the best of what your HDTV, stereo, or any other sound-blasting device is capable of. The VIZIO S4251w 5.1 Sound Bar system delivers an immersive sound experience that's not just good for the relatively inexpensive package it's delivered to the market with: it's worth more than it costs ($329.99 USD, if you'd like to know). It's not often that we can say such a thing for a device here in an age when a product is replaced by a newer, more powerful version of itself in no time flat: VIZIO delivers a product you'll be satisfied with for many years to come.
Sound quality is something you're not going to want to skip when you're aiming for a full home theater experience. VIZIO delivers a powerful solution in the S4251w 5.1 Sound Bar system, one that's not to be overlooked.