Vizio Co-Star LT Stream Player makes any TV a smart TV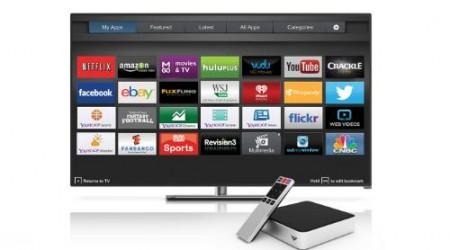 Vizio has become one of the most popular TV manufacturers in America thanks in large part to its nice technology at reasonable prices. Vizio has announced a new streaming media player called the Co-Star LT Stream Player that promises to bring the companies connected smart TV experience to any HDTV. The stream player is able to merge live and streaming entertainment into a single TV watching experience.
The set top box brings with it the Vizio smart TV platform and Vizio Internet Apps Plus capability. The set top box features a single HDMI input and an HDMI output allowing existing cable or satellite programming to pass through the box. Users are able to browse applications while watching live TV.
The set top box has built-in Wi-Fi and smartphone/tablet second screen interactivity. Users can also browse apps using the full-screen and the box supports up to 1080p resolution as well as 3-D content. The box supports HTML 5 apps and has an integrated USB port allowing content to be played from mobile media devices.
Available applications for the set top box include Amazon Instant Video, Hulu Plus, Netflix, YouTube, Vudu and others. The second screen interactivity with tablets and smartphones allows users to search for video on apps like YouTube or Netflix on their device and then play the video back on the TV. The Co-Star LT Stream Player is available now for $79.99 directly from Vizio with wider availability at Amazon, Best Buy, and Walmart later this month.
SOURCE: vizio