While we got to see plenty of notebooks and all-in-ones from Vizio during CES 2013, we also got the chance to check out a 7-inch and 10-inch tablet from the company that don't seem to be as far along in the development process as the other products. Nevertheless, they certainly were cool, sporting technical specifications that can take on the larger tablet manufacturers out there. Sadly, we don't have release dates for either of these two tablets, but that doesn't mean we can't talk about them in the meantime!
We'll start right off with Vizio's 7-inch tablet, which is obviously the company's answer to the wildly popular Nexus 7. Its specs aren't all that different from those of the Nexus 7 either, sporting 1200 x 800 resolution, 16GB of internal memory, and a NVIDIA Tegra 3 processor. Users will also have WiFi and Bluetooth connectivity at their disposal, and for a 7-inch tablet, this one looks pretty good. The tablet itself looks sleek and the visuals are sharp thanks to the 1200×800 resolution. It also feels pretty good in the hand, as most 7-inch tablets seem to.
Moving right along to the 10-inch tablet, we'll have 2560 x 1600 resolution, so starting right off, we can already see similarities between it and Samsung's Nexus 10. With that kind of resolution, I'd typically be worried that the processor would struggle a bit, but this tablet is running a brand new Tegra 4 under the hood. Add to that 32GB of internal storage with the option to expand thanks to the microSD slot, Bluetooth 4.0 functionality, and a microHDMI port, and you've got a tablet worth getting excited about.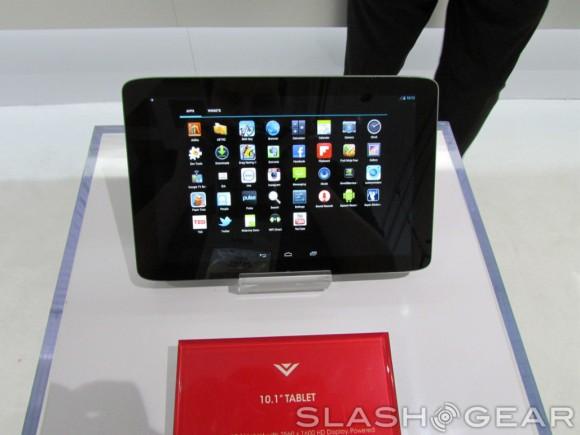 The screen on the 10-inch tablet looks absolutely great, and if you've seen the display on the Nexus 10 in person, then you should have a relatively good idea of what to expect. The only downside is that 7-inch tablets seem to have spoiled me and 10-inch tablets now feel weird to hold. That's more likely a personal hang up than a negative mark against Vizio, but in any case, this tablet certainly isn't without heft. What's more, swiping through screens on the tablet seemed very smooth, and there were only a few dropped frames that I noticed during HD video playback. There's no word on when this bad boy will launch, but expect to be waiting awhile considering that Vizio wants to put a Tegra 4 in it.
All in all, I was pretty impressed by what I saw from Vizio. These tablets may not being anything incredibly new, but they're still both solid pieces of equipment. Now we wait for release dates to be announced, which could be some time away in the case of the 10-inch tablet. Vizio's 7-incher is scheduled for launch sometime in the first half of 2013, so we'll have to see if Vizio can stick with that launch window. Be sure to check out our CES hub for all you need to know from the show!