Vivo NEX Dual Display Edition teardown reveals potential problems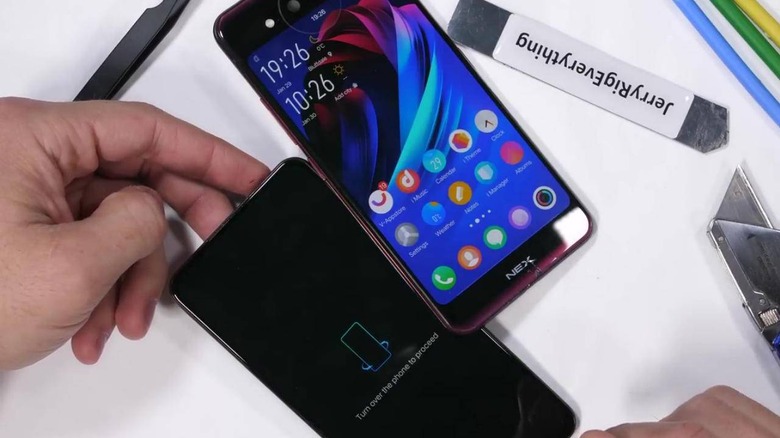 Some Chinese companies are taking the risks bigger OEMs don't want to make to find alternative solutions for the design problems that plague smartphones these days. Though not actually the first (Russian company Yota can have that title), ZTE's nubia and Vivo have both come out with smartphones that not only have a screen on both sides, they've also survived JerryRigEverything's tests. Now all that's left is to open up the Vivo NEX DDE to see what's inside, hopefully without breaking anything.
Unfortunately, Zack Nelson was off to a bad start. As he notes, the problem with having screens on both sides, you can't be sure where to start opening. In his case, trying to pry off the back resulted in cracked glass. Fortunately, it was just the second layer of glass on top of the display, which kept the screen itself function. Unfortunately, that doesn't bode well when it comes to accidental drops on that side.
Suffice it to say, the NEX Dual Display Edition is constructed rather differently. Removing the front screen reveals that everything is actually attached to it, including the midframe. There are also tons of screws holding things in place, and repair technicians might feel a bit overwhelmed.
Inside, the Vivo NEX DDE reveals one other potential source of problems. There is no thermal paste or added cooling system keep the powerful Snapdragon 845 chugging along nicely. This means that the phone will be prone to overheating which, in turn, would result in performance throttling. Not good for a very premium phone.
All in all, the Vivo NEX Dual Display Edition seems pretty difficult to tear down and repair. It stands in stark contrast to the nubia X, which was more or less straightforward to take apart. Given the added risk of such dual screen phones breaking on accidental drops, that is definitely something to be mindful of. Good thing then, that Vivo ships the phone with a matching bumper case.