Vivitek Qumi HD LED projector ships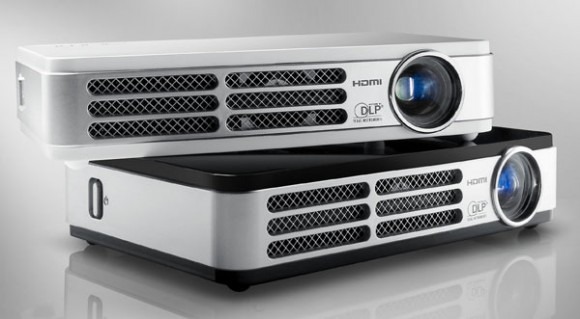 Vivitek has announced that it is finally shipping its interesting little Qumi HD and 3D ready pocket projectors. The projectors were originally pegged to ship last month, but that never happened. The Qumi projector is available right now for $499 online and in retail stores. The Qumi should be very portable with a weight of 1.4 pounds and it is the first 3D ready pocket projector.
The 3D support for the projector is via Texas instruments DLP Link technology. The projector has touch sensitive buttons and a very sleek design with black or white version available. The native resolution is 1280 x 800 making it 720p capable. The brightness is up to 300 lumens and it has a 2500:1 contrast ratio.
The projector is 6.3" W x 1.2" H x 3.9" D and the LED light source is good for 30,000 hours of operation estimated. Connectivity includes mini-HDMI, universal 24-pin connector for VGA or component, and a mini jack audio output. "With the Qumi, Vivitek has a complete line of projector models to fit just about any need and application," said Christopher Yang, senior product manager at Vivitek. "We know that hours of operation, brightness and picture quality are key factors for consumers. The Qumi incorporates the latest LED and other leading-edge technologies and features, such as 3D, to ensure that it is versatile enough to match the range of portable products out in the market."