Vivace Multitouch Portable Music Studio Concept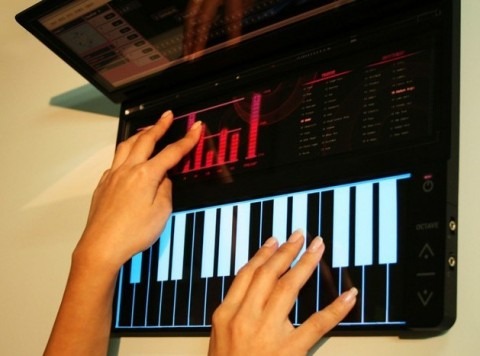 Music workstations have been around for many years, but we're yet to see something as slick as this Vivace concept.  Designed by Young-Shin Lee and Hae-Jin Jung, the Vivace is a clamshell touchscreen instrument and computer, which offers multi-function playback, recording and editing all in one device.
As with other notebook concepts we've seen, the Vivace swaps a traditional QWERTY keyboard for a full touchscreen.  In the Vivace's case, however, this multitouch-capable panel is dedicated to music, with selectable samples and sounds, an equalizer and of course a piano keyboard with controls to flip through octaves.
Sadly it's just a concept right now, meaning those looking for a portable music studio will probably still need to pack a separate laptop and controller keyboard.  The keys themselves might need some assistance too; the lack of differentiation and physical feedback could make playing them tricky.