Vital Connect fitness tracking wearable gets serious about mHealth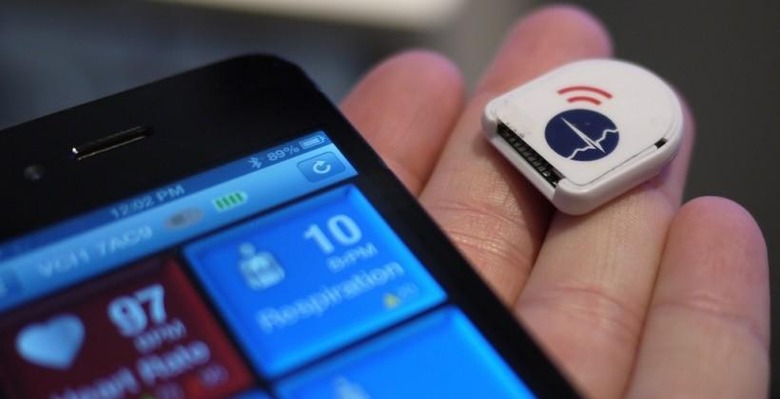 Fitness tracking wearables like Fitbit and Jawbone UP are big business right now, but what if you want more from your heath monitoring? mHealth startup Vital Connect is weighing into just that market, with a disposable wireless health monitor that can unlock your biometrics for your smartphone, the cloud, and even remotely to your doctor, nurse, or medical specialist. We caught up with the company to find out what was involved, and whether we should expect wireless fitness tracking to get serious.
Vital Connect's first product is a self-adhesive monitoring strip, which sticks to the chest and tracks ECG, temperature, and movement for up to three days thanks to an integrated battery. A Bluetooth LE link is relied upon to shuttle that data in real-time to the cloud; the startup was mainly keen to show off the home gateway it had developed with the help of Verizon's Innovation Center, which includes WiFi, Bluetooth LE, and 3G, but also had an iPhone app which could do the same thing while you're on the move.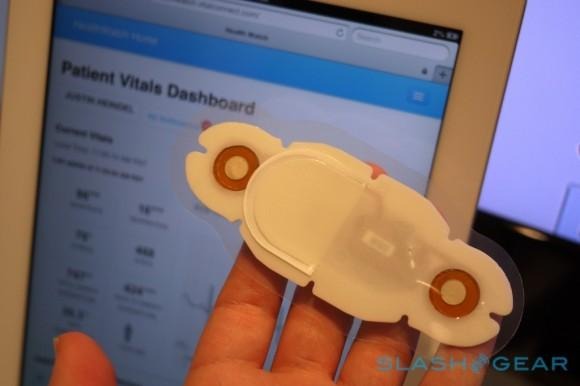 Rather than just measuring vital signs in-depth periodically, as you might have during a routine check-up, or tracking a few basic factors more frequently, Vital Connect is aiming to combine affordable wireless technology commoditized from smartphones with the sort of accuracy you'd get in a hospital. The company already has CE-mark approval in Europe, and expects FCC approval in the US by late 2013 or early Q1 2014, and is pitching the system in part to healthcare specialists.
That flexibility, Justin Heindel, business development VP at the company, explained to us, is what makes Vital Connect special. On the one hand, hospitals can use it to monitor patients remotely rather than send out nurses to make home visits. On the other, the company plans to target it at regular users, too, most likely under Verizon's mHealth range umbrella.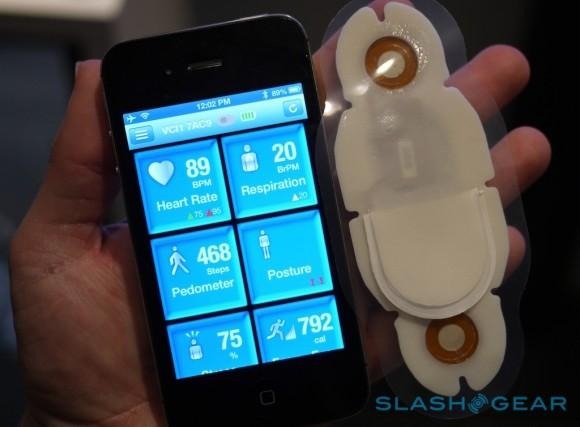 They might be curious about health tracking in general, or want the system for an elderly grandparent; through the browser-based interface you can set up alerts to notify when certain measurements like heart-rate rise or fall below a preset point, or if the accelerometer spots what's likely to be a collapse or fall. The system can also learn the wearer's stress patterns, giving a percentage level that can be graphed and monitored.
However, Vital Connect also fits in-between the two extremes, Heindel explained. You could wear the disposable monitor for the few days in advance of your next doctor's visit, for instance, and bypass the usual time-consuming measurements at the beginning of the appointment. Overall your healthcare experience would be more efficient and your results more accurate and comprehensive.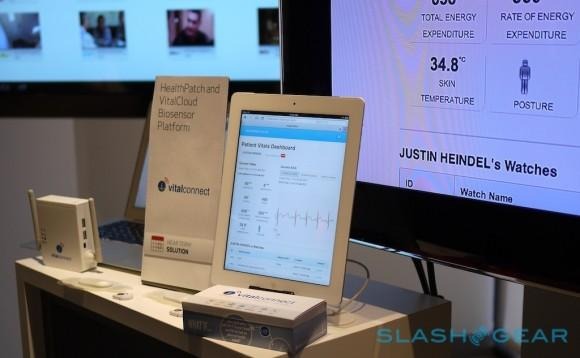 In its first generation, Vital Connect expects each of the self-adhesive monitors to come in at around $5 apiece; they run for about three days, are waterproof, and aren't designed to be recharged. However, they do need to be used with a $50 reusable Bluetooth LE module, which also has some degree of onboard processing so that you don't need to be reliant entirely on the cloud to crunch through the data.
Heindel told us that, for the second generation, the company is working on its own custom chip which would include not only the sensors and battery but the processor and wireless radios, all in one disposable package. Still, Vital Connect expects to focus on the reusable dongle strategy all the same, since it's less wasteful than throwing away a full system; the integrated version will simply be offered as a convenient niche alternative.
That's not set to happen for a while yet, though, with Vital Connect still to get the first-gen system to market after it receives FCC approval. That should help differentiate it from the bulk of the non-medical-grade fitness trackers, the company hopes, as well as giving users a little extra confidence that the data gathered is truly useful rather than just a gimmick.