Virtue Pedalist bicycle sports tiny car-like body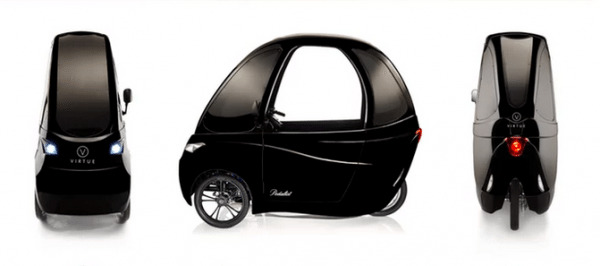 Commuting on a bicycle has its upsides, but there are some potential problems. Lack of adequate storage can be one issue, for example, and rain is an even bigger problem, especially for those living in rainy places like Seattle. The Virtue Pedalist aims to be a sophisticated solution to many of those problems, serving as a sort of cross between a miniature car and bicycle to offer (many of) the benefits of both worlds without compromising all the things that make bikes worthwhile.
The Virtue Pedalist features a complete shell for protecting one's self from the rain and other elements, for example, as well as storage space for a bag or two or enough room to ride in tandem with a passenger in the back. There's likewise electric pedal assist with a 750W electric motor and a 48v/32a li-ion battery. With this, the Virtue offers 50 or more miles on a charge, depending on how much pedal assist is used versus pure throttle.
The throttle-only operation is computer limited to 20MPH in order to qualify as a tricycle and meet most state laws. As far as the construction itself goes, the bike is 35-inches wide, making it small enough to park in tight spots, and it has both tail lights and headlights. Likewise, there's an internal 8-speed gear hub and disc brakes.
The Virtue is up for funding on Kickstarter, where the makers are seeking $100,000 USD in pledges. There are so far $205 raised with 29 days remaining. A pledge of $2,999 USD gets the Pedalist minus the electric power components, while $3,999 USD gets the regular Pedalist. Shipping to backers starts in November if all goes as planned.
SOURCE: Kickstarter