Virgin Mobile Helio Ocean 2 available now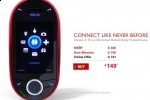 The Helio Ocean 2 has gone on sale, with Virgin Mobile offering the dual-sliding 3G feature-phone for $149 with a new subscription.  Alternatively, existing users still within their contract can buy the Ocean 2 for its MRSP of $400.
There are three "All In" plans on offer, each with inclusive text and video messaging, data access, GPS Buddy Beacon and MySpace/YouTube access, priced from $65 per month to $99 per month (varying with the number of included minutes).  Meanwhile the "A la carte" plans start from $40 per month but you'll be paying extra for data and accessing services, both likely pastimes with the Ocean 2.  Both sets of plans include unlimited mobile to mobile calls and unlimited evening (after 7pm) and weekend calls.
You can see our first impressions and a video unboxing and hardware walkaround of the Virgin Mobile Helio Ocean 2 here.  We'll be reviewing the handset over the next week or so, to see whether it's the double-sliding Messiah for Virgin Mobile subscribers or too little, too late given the state of the mobile market.
[thanks to everyone who sent this in!]