Virgin Galactic donates historic VSS Unity hybrid rocket motor to Smithsonian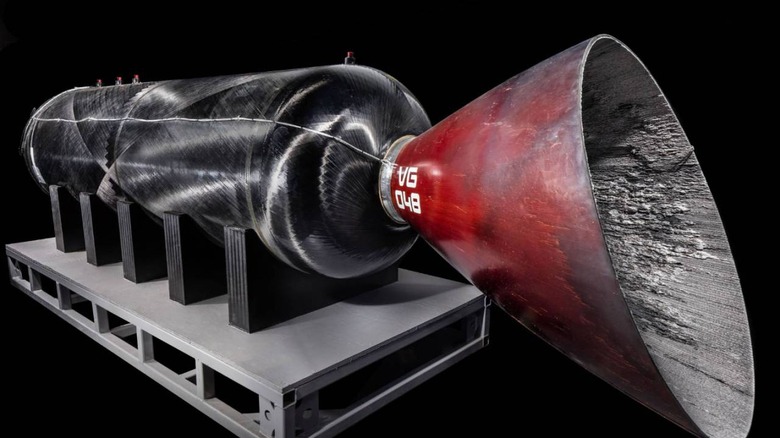 Virgin Galactic has donated the hybrid rocket motor that powered its VSS Unity spaceplane into a new world record, the company has announced. The motor was donated last week following the historic flight that took place in mid-December 2018. According to Virgin Galactic, the Smithsonian National Air and Space Museum in Washington DC will exhibit the motor in a gallery called "Future of Spaceflight."
The historic spaceflight took place on December 13, at which time Virgin's donated motor was able to take VSS Unity into space at almost three times the speed of sounds. The aerospace company has specifically donated the Case-Throat-Nozzle (CTN) assembly, which it calls "integral" to the overall hybrid propulsion system.
The supersonic plane's achievement has remained somewhat controversial, as it reached the edge of space, specifically an area that some have challenged as actually being "space." Regardless, the milestone flight earned its two pilots their FAA Commercial Astronaut Wings and provided the public with an astounding view of our planet:
SpaceShipTwo, welcome to space. 🚀🌎 pic.twitter.com/tHHNSlkrd0

— Virgin Galactic (@virgingalactic) December 13, 2018
The Smithsonian officially unveiled the donated motor during a ceremony and will soon exhibit it in a new gallery centered around space flight. The motor was developed and built by The Spaceship Company, and it currently holds the record as the most powerful hybrid rocket used in a manned flight.
In a statement today, Richard Branson said:
We're proud to be making history as we work towards launching the world's first commercial space line, and today we could not be more delighted to donate a piece of that history to the Smithsonian's National Air and Space Museum for its wonderful new exhibition. The desire to explore space has been an inspiration since time began and, in recent decades, an incredible catalyst for innovation. I hope our donation will also play a small part in inspiring the thousands of visitors as they pass through the new gallery in years to come.