Virgin announces Virgin Volcanic journey to center of Earth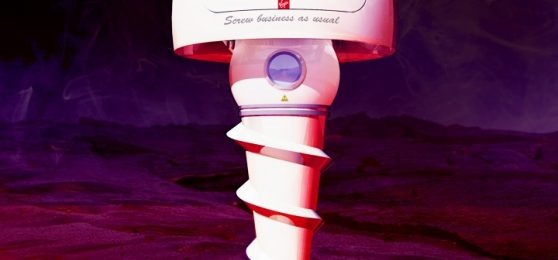 Sir Richard Branson has explored the skies in a hot air balloon, delved into the deep sea, and even gone into space, but now his next project is to go to an entirely new desintation – the center of the Earth. Introducing Virgin Volcanic, a corkscrew-shaped vessel that will make its trips via five of the most active volcanoes in the world. It is perhaps Branson's most ambitious idea to date.
April Fool's! Yep, this is Virgin's big hoax for tomorrow's big prank day. And it was kind of elaborate. For starters, the company claimed to have signed on celebrities like Tom Cruise, Will.i.am, Seth Green, Arnold Schwarzenegger, and Stephen Hawking joining up for the expedition. The hoax claimed that the expedition was $1 million per person.
Since April 1 falls on a Sunday, a few companies are trying to make the big April Fool's Day news today, in order to make bigger waves on the blogosphere. For its part, Virgin has been spreading around its fake volcano-digging story around Twitter, Facebook, and Google+. Branson himself is in on it, posting about it to his throngs of followers. It sounds like it would be a pretty awesome thing. Too bad it's just a joke.
[via VentureBeat]