Virgin America 'First Class' Shoes Include Seat Buckle, WiFi, TV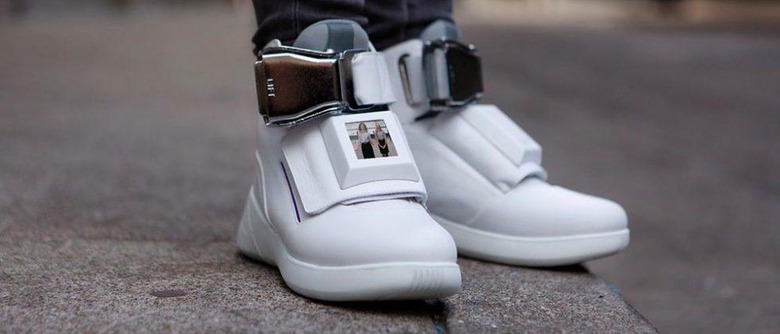 There's a new pair of shoes out there that give the Virgin America 'first class experience,' and they're quite literally one of a kind. The only pair of shoes equipped with its technology, the Virgin America First Class Shoe is the craziest pair of kicks since Nike's Air Mag, and they do a lot more than just get you around in comfort. Included among the First Class shoes' feature is an airplane seat buckle, a functioning TV, phone charger, and more.
The shoes seem to have been created as a bit of publicity for Virgin America's first class air experience, but they're being sold off entirely for charity, with 100-percent of their eBay auction proceeds going to 'Soles4Souls,' at least according to its auction page. This is a non-profit organization that fights poverty by collecting and distributing clothing, including shoes, to those in need.
The shoes themselves are crazy. There's a small functioning TV via which you can have your favorite movie play. There's also a USB port and a battery for charging your smartphone while you rest. If that's not enough, a strip of mood lighting complements the huge seat belt buckle, again to present that first class experience.
Not visible but also included is a WiFi hotspot, though if you want to use it, you'll have to sign up for service yourself. The battery that powers all this lasts up to three hours and is rechargeable. The shoes also feature an embossed Virgin America logo, white Italian leather, and they were hand-made in Milan. The eBay listing says the shoes will be shipped to the winning bidder with a Plexiglass display case. Bids currently sit at $1,375 USD.
VIA: HighSnobiety