Virgin America announces in-flight entertainment revamp for 2012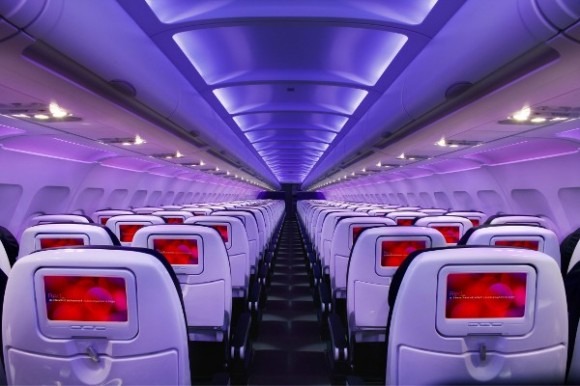 Virgin America has announced a new partnership with Lufthansa today to bring a major upgrade to their already tech-forward in-flight entertainment system called RED. The revamp to the in-flight entertainment system will include larger touchscreen HD monitors that are internet-capable and also allow passengers to connect their own devices via WiFi.
The revamped system is being called a new hybrid technology platform, where passengers can access various content and surf the web via the seat-back monitor as well as connect multiple personal devices to the system's WiFi simultaneously. This means that content such as music, movies, or TV shows offered through the new RED system can be listened or watched through each passenger's own personal devices.
The system is already in development in partnership with Lufthansa's IT group called Lufthansa Systems, which designed the BoardConnect on-board WiFi network. BoardConnect requires only a few access points to allow all passengers to connect to the system, making it much more scalable than the current Virgin America system.
The new in-flight entertainment system is set to launch in late 2012 and is currently undergoing backend testing on Virgin America's new Airbus A320 named the #nerdbird. The current fleet of 40 Virgin America A320 planes is expected to grow to 57 by mid-2013.
[via PC World]