Viewsonic offers up new PJD2121 mini pico projector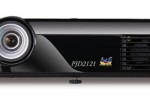 One of the big trends in the consumer electronics industry is to smaller and smaller devices. One area where the devices are getting much smaller than they used to be is in projectors. Most projectors used to be large devices that were hard to carry around, but projectors today are often not much larger than a smartphone.
Viewsonic has announced a new portable projector called the PJD2121. The 2121 measures in at 8.1-inches x 4.7-inches x 2.6-inches and weighs only about 2.16 pounds. Despite its small size, the projector supports both 720p and 1080i formats and has 400 lumens of brightness.
Texas Instruments BrillantColor technology is used for good image quality. Viewsonic also designed the projector for small spaces with the ability to throw a 60-inch image from only four feet away from a surface. The projector has a contrast ratio of 1,800:1 and a can display a maximum image size of 150-inches. The PJD2121 is currently available for $449.