ViewSonic DPG801BK and DPG807BK digital photo frames forget the WiFi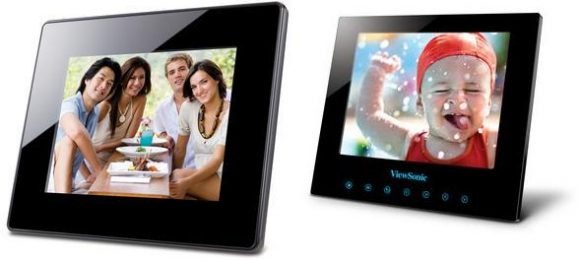 ViewSonic have announced a pair of 8-inch digital photo frames, complete with SwifTouch hidden touch-sensitive controls in the bezel that only illuminate when pressed.  As with any digital picture frame that crosses our path here at SlashGear, we've applied our basic litmus test on the ViewSonic DPG801BK and DPG807BK: is there integrated wireless?  Sadly, the answer in both cases is a resounding "no".
That means you're limited to a memory card (via the 6-in-1 reader that can handle CF (I), SD, SDHC, MMC, MS, MS Pro and XD cards) or a USB thumbdrive.  Alternatively you can plug either in to your PC and show photos that way.  The DPG801BK is capable of displaying JPEG, BMP and M-JPEG files, together with playing MP3s through its mono 1W speaker; the DPG807BK adds MPEG 1 and MPEG 4 compatibility, together with stereo 1.5W speakers.  However the former has a remote control, which the latter lacks.
Each has 800 x 600 resolution, 500:1 contrast ratio and 250 cd/m2 brightness.  The two frames are available now, priced at $129 each.
Press Release:
ViewSonic Introduces Two Sleek Digital Photo Frames for the Holidays

Picture-perfect design includes touch-screen technology and piano-black finish

According to a recent iSuppli(1) study, the digital photo frame market will see worldwide growth of 78.3 million frames sold by 2011, partially fuelled by the product segment's popularity around holiday seasons. To provide consumers with affordable choices for gift giving this year, ViewSonic Corp. introduces two 8-inch digital photo frames to its product line starting at $129. The DPG801BK and DPG807BK include cutting-edge SwifTouch touch-screen technology to provide a clutter- and smudge-free display with hidden control buttons that illuminate to show your menu selections only when needed.

"With the inclusion of SwifTouch technology, the picture is the main focus and the frames' controls are only displayed when needed," said Jeff Volpe, vice president of Global Brand and Emerging Business at ViewSonic. "We are dedicated to bringing the best in intuitive and engaging solutions to help consumers showcase their memories with brilliant quality and style."

The frames' easy-to-use menu and setup make the DPG801BK and DPG807BK an excellent gift for anyone on your list – from grandma and grandpa in Florida to your cousin going to college in Boston. Pictures can be easily uploaded to the frames through a thumb drive, memory card, USB cable or computer. With 512MB of internal memory standard, the frames can display and rotate thousands of photos. People can display photos individually, zoom in up to 16 times to view intricate details of the photos, browse thumbnails or create an image slideshow with transition effects and audio.

A high 800x600 resolution, 4:3 aspect ratio and 500:1 (typ) contrast ratio provide crisp, high-quality images in a variety of formats, including JPEG and BMP. Ideal for displaying all types of memories, the frames also support MP3 for music and multimedia – the DPG801BK can display Motion JPEG, while the DPG807BK can display MPEG1, MPEG4 and Motion JPEG for video. Great for the desktop, coffee table or night stand, the photo frames also include also include clock, alarm and calendar functions.

The DPG801BK and DPG807BK are available now at estimated street prices of $129. Both are backed by a one-year limited warranty and will be sold through authorized ViewSonic resellers, distributors, retailers and e-tailers.

For more product information and images, or to locate an authorized ViewSonic dealer, visit http://www.viewsonic.com/products/digitalphotoframe or call 800.888.8583.