The Victrix Pro AF ANC gaming headset is the pair of headphones I've been looking for since I first fell in love with Saint's Row. They'd fit in perfectly with their aesthetic – what with the purple and the both extreme yet subdued (somewhat) industrial design. The look is good, the sound is tight, the total package is worth your consideration.
Hardware Comfort
These headphones are extremely comfortable to wear. It's difficult to make a particularly uncomfortable pair of over-ear headphones – but I've certainly had a few on my noggin over the past decade. Victrix makes a pair of headphones I could wear for hours on end. Thank you faux-leather (protein enriched polyurathene) ear cups and slow return memory foam.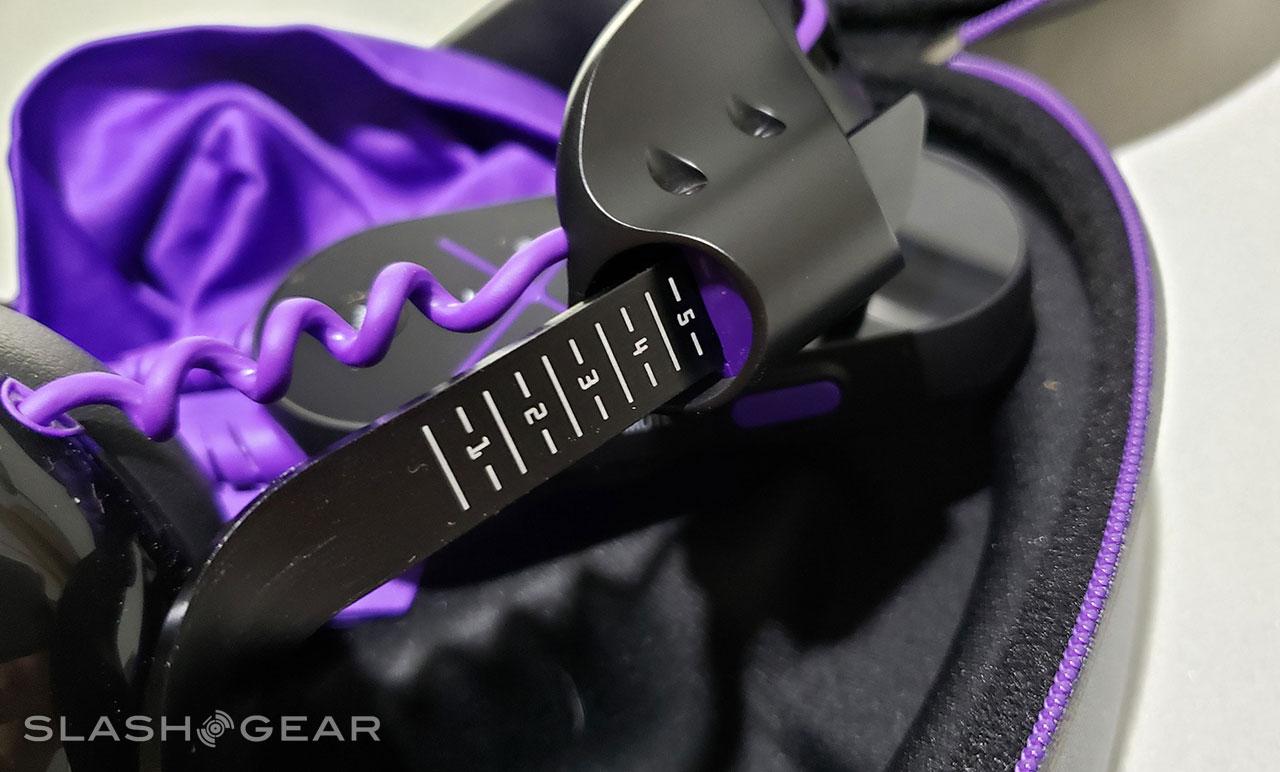 The padding is the base of the comfort, and the extravagant built-in cooling system is the feature that makes the headset unique. Each ear cup has its own vent that's able to be opened with a lever. Each vent allows air in – and a bit of external sound in, too. That's helpful in my situation as a father of a couple of kids. I can never, ever be completely shut off from the rest of the world, so this method for opening up the headphones while they're on is a welcome feature.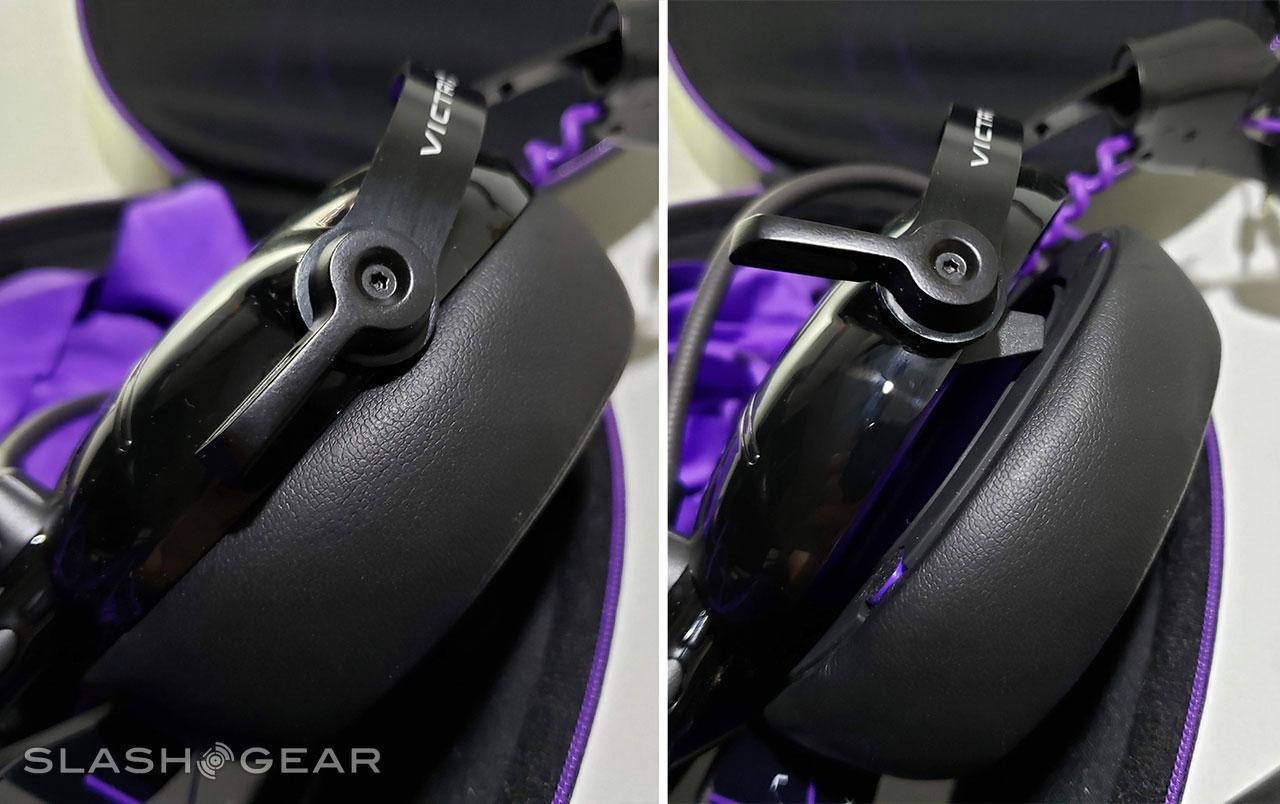 The headset is approximately 320 grams (0.7 pounds) – light, but not so light as to feel cheap. Each ear cup is independently adjustable approximately 5 inches down from their most-compact state. Ultimately the most comfortable pair of headphones has no wires to tie it down – but because we're also going for highest audio quality here, wireless isn't gonna happen.
Wire and Control
Vitrix includes THE ILC with this headseat. That's an in-line controller, a device that's battery powered and includes its own LCD display. This little monster is able to adjust volume, mic gain, and noise cancellation (off/on). This controller can also adjust the level of lighting in the headset cans and level of mic monitor (if you want to hear your own voice when you're singing victory songs with your teammates or screaming at your opponents).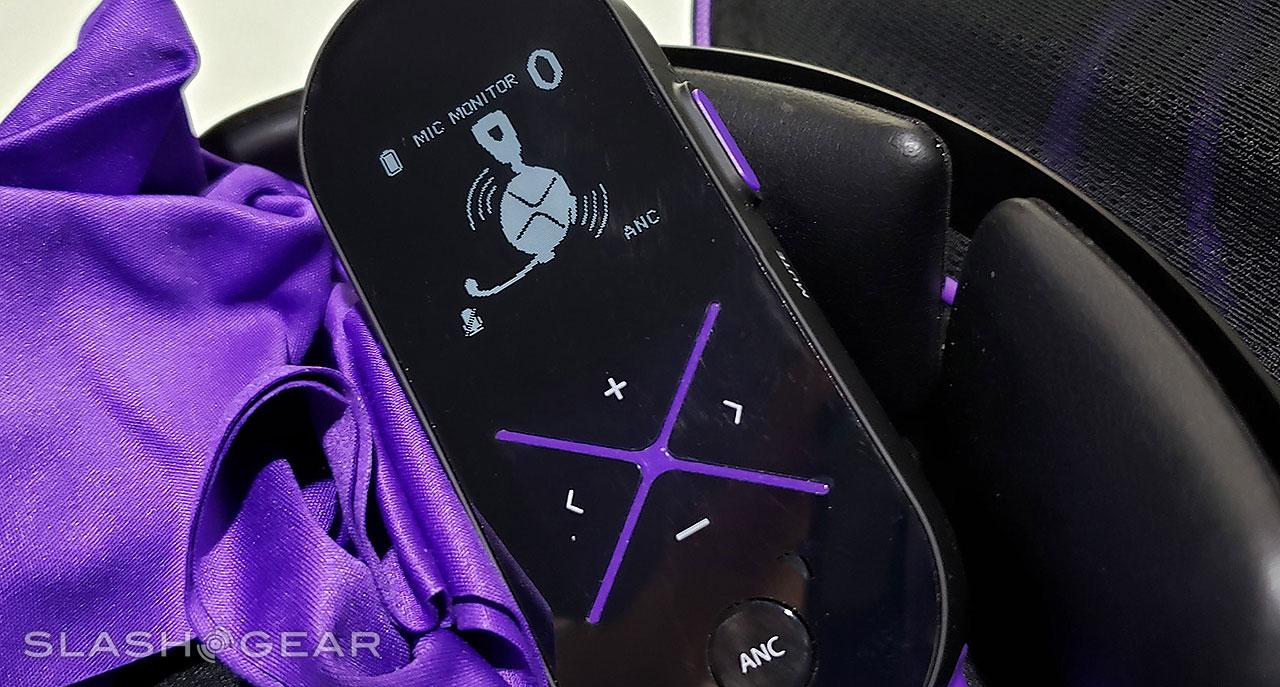 This controller can switch between a balanced mode and a low-end-heavy mode and has a giant MUTE button on its side. The controls here are simple enough for anyone to understand and large enough to adjust on-the-fly whilst gaming like a wild animal. There's also a clip on the wire near the controller that'll allow the user to keep the whole rig in place, wherever the user does so choose.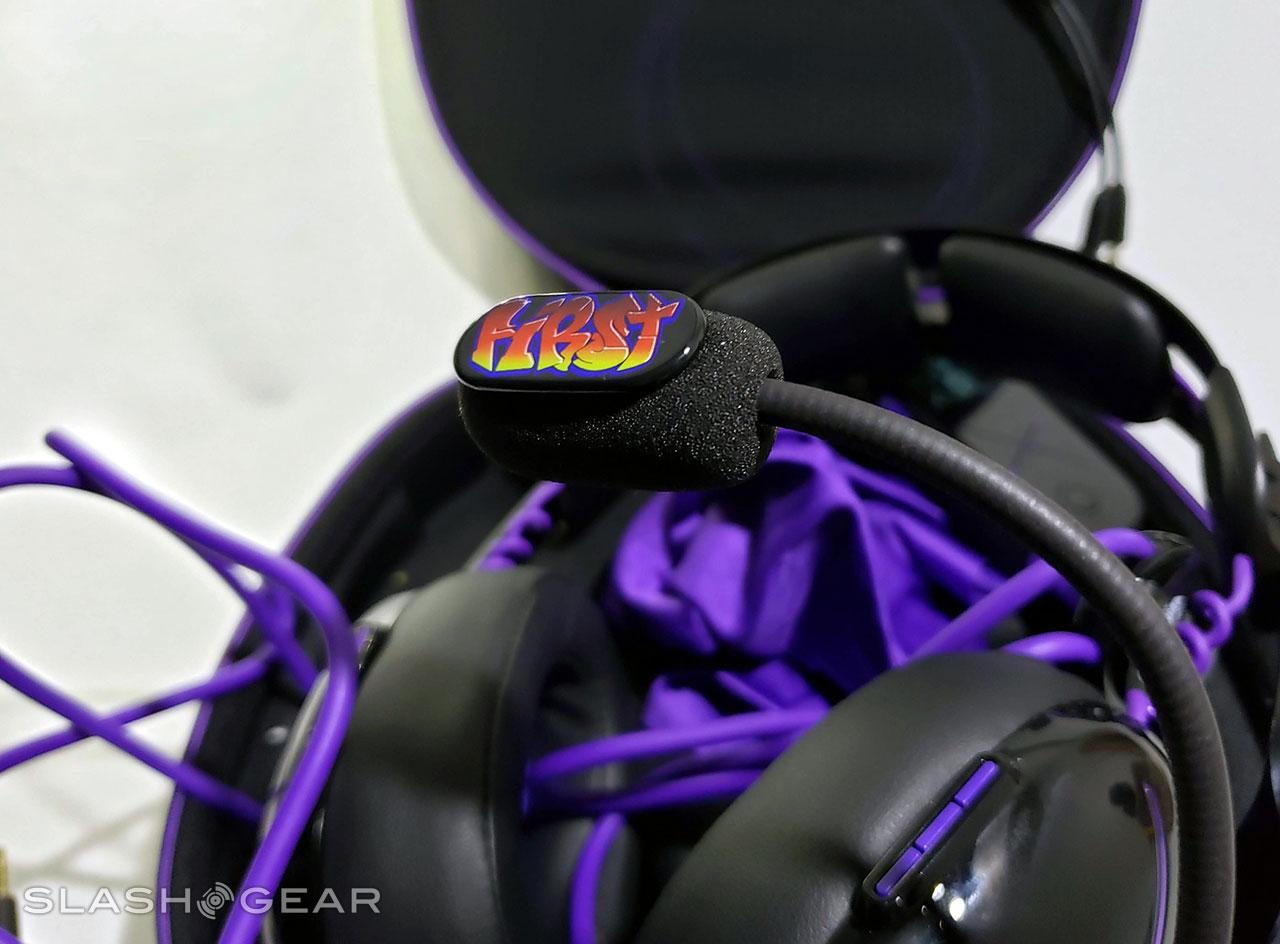 The wire from the headset to this controller is connected with a cord that has its adjustable microphone attached by default. While the mic cannot be removed, adjusting the mic up and away is simple and effective. This microphone has a removable, replaceable face plate that seems to exist solely for its potential to display custom-printed plates – which could be pretty neat.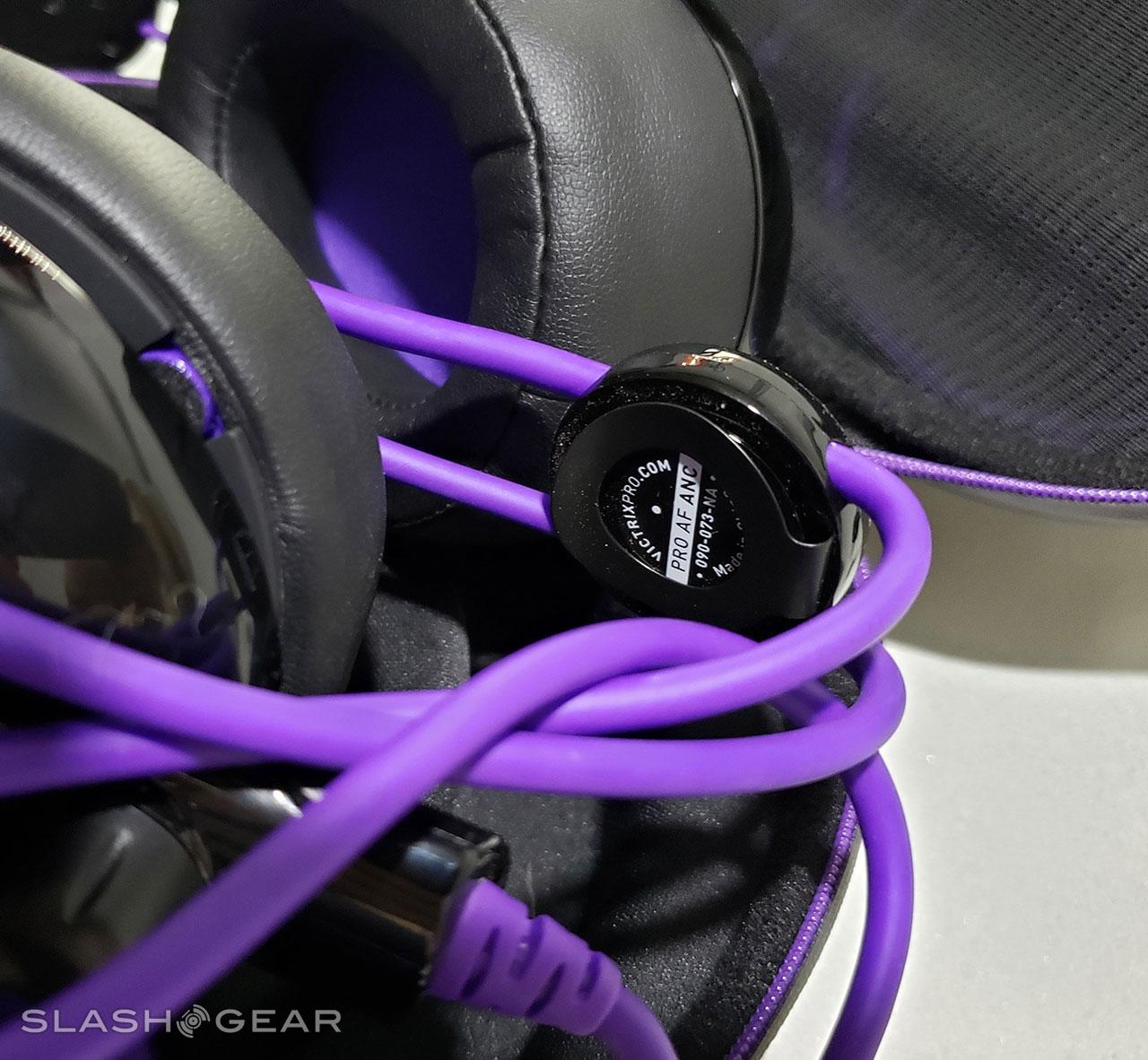 The wire connecting the headset to the controller and back out to a headphone jack is more than 5 feet in length. Also included in the box is a 3-food headphone audio cord and an additional splitter (to audio and mic). The entire length of cord is a royal purple – so you won't be mistaking it for anyone else's cord, nor the cords of any other piece of electronics you might have on hand.
Sound
The headset works with an impressive set of cans. This headset features 50mm speakers, 20Hz-20kHz speaker frequency response, 32n nominal impedance per speaker, and active noise cancellation that delivers -45db, some nice erasure of the world around one's head.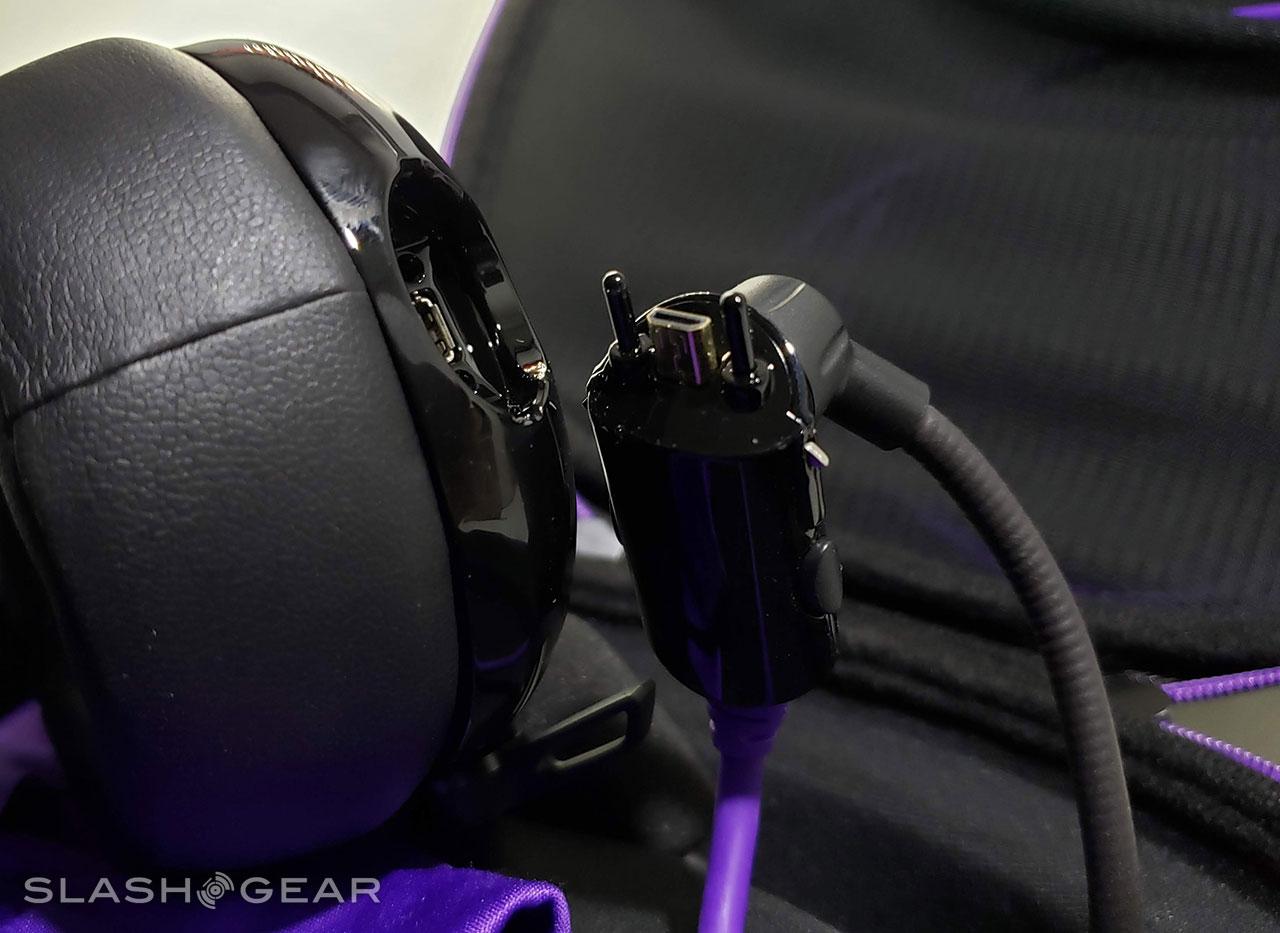 Sounds from this headset were well-balanced. I experienced deepness of big sounds the like of which I most certainly could not hear with standard, lesser headphones. The same is true of light sounds in games that, until now, I'd not noticed existed. The sound quality in these cans was truly fine.
The microphone is a 6.0mm Bi-directional noise-cancelling unit with 100Hz – 10kHz frequency response. Sensitivity on this mic is -45 + 3dB with a 60db mic signal-to-noise ratio. Also note: this mic is on a beam that's extremely versatile and sticks where it's been moved.
I wouldn't use this headset's mic to record any audio for later presentation – but that's not really what they're made for. I also never had any trouble picking up what was said on the other end of the line when listening to someone else use this headset's mic. It does what it's meant to do, basically.
Wrap-up
The Victrix PRO AF ANC is up for sale for right around $300 USD. Right this minute there's a limited run of this headset available through VictrixPro, the Victrix online shop. There, the headset is numbered 1 of 4,000 (unique for each headset). This headset includes a Travel Case that'll apparently be sold separately when this run is done. This run has an oversized cleaning cloth, the audio extension cable and PC splitter mentioned in the review, one alternate mic badge, and the headset + ILC unit. This version includes VIP Tech Support, too – that's "Mobile phone number of the Victrix tech support etched on the product. 24/7 dedicated global live support."
I find it difficult to justify spending large amounts of cash on pieces of electronics some might consider "accessories." But this is different. This headset seems to me to be worth the full three hundred bucks. But ONLY if you love the color purple.