Victory Motorcycles shows off stripped down Core concept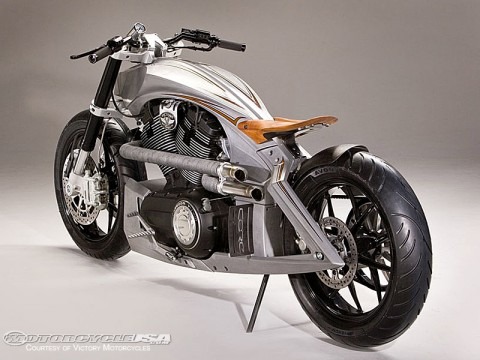 Last week at Cycle World International Motorcycle Show in New York they were able to unveil the new Victory Motorcycle's CORE concept bike. Designed by Victory's lead Industrial Designer, Michael Song, the bike features some great body work with a ton of touring amenities.
The frame is made of an aluminum alloy that consists of five main pieces that houses everything. This concept has very solid brakes as it is powered by the same engine as the 2008 Hammer with 97 HP and 113 lb-ft of torque. True to its name Victory has managed to take out all of the added bloat and create a really amazing concept bike.
Victory Motorcycle claims the "design team felt the name CORE perfectly reflects the essence of this concept motorcycle. It is, in fact, the raw 'core' or center of a motorcycle. There is no traditional bodywork; the motorcycle is effectively turned inside-out with its architecture completely exposed. It also accentuates the innovative frame design and the process that is used to make the cast aluminum frame: the molten aluminum is poured into a sand core, which is removed when the casting process is complete."
We have all asked why take the time, money and effort to build a functional concept, Victory's Director of Industrial Design, Greg Brew, sums it up best for us.  "The fact is a project like CORE is as important to the design team as winning Daytona would be to an engineering team. 'Pushing the boundaries' is just another cliché – CORE exists to show the world how dedicated Victory is to the art and science of motorcycle design."
Tell us what you think about the Victory CORE concept.