Viber launches secret chats to go beyond encryption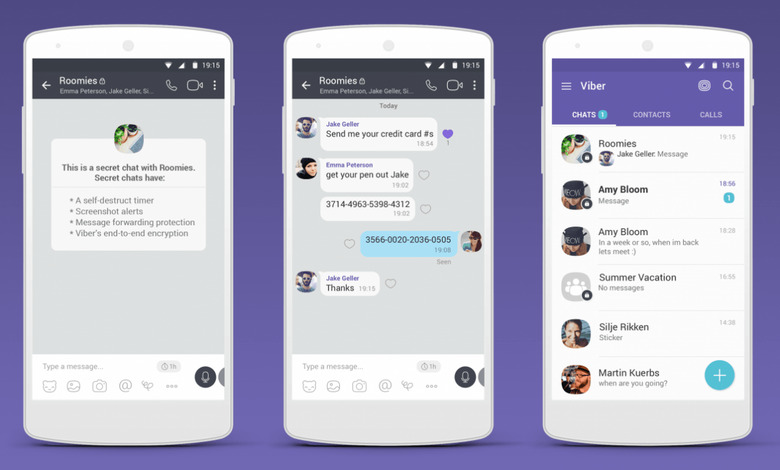 We've seen a lot of chat services rolling out end-to-end encryption lately (or, in Facebook Messenger's backwards world, optional end-to-end encryption), but now Viber wants to take that one step further. Viber already launched end-to-end encryption for all conversations held over its service a few months back, but starting today, you can host "secret chats" for a little extra security.
With secret chats, you can set the conversation to "self-destruct" and automatically delete after a certain amount of time. While regular chats in Viber have this self-destruct option, it only applies to video and picture messages – in secret chats, on the other hand, the self-destruct feature applies to all messages.
Secret chats offer two more features that regular Viber chats do not. Messages in secret chats can't be forwarded, and secret chats also offer some kind of protection from screenshots. According to Viber, screenshots are completely disabled on Android. Screenshots can be taken on iOS, but the sender will received an notification alerting them to the fact that the recipient of their message is snapping pictures.
While you can turn existing chats into secret chats, you also have the options of keeping separate regular and secret chats with your Viber contacts. You can also use secret chats to hold one-on-one conversations or group conversations with up to 199 contacts. If you're hosting a secret chat with 200 people, though, we wonder how secret the chat really is.
So, all in all, this sounds like a nice companion feature to end-to-end encryption, and it should do something to pull in users who are concerned about security more than anything else. Secret chats are available in the latest version of Viber, which is already appearing on the Google Play Store. What do you think of this new feature? Head down to the comments section and let us know!