Viber, a messaging app similar to WhatsApp, just announced a major new feature: public profiles for businesses, making it easy for customers and Viber users to message brands. Viber calls these public profiles "Public Accounts," and says its users will interact with them the same way they do other any other user, with the messages showing up in the chat list. The feature isn't dissimilar to Facebook's business messaging feature.
The Public Accounts are coming in Viber's version 6.5 Android and iOS — you can find them by tapping the "Public" icon. To show off how it works, Viber created a Public Account for a fake restaurant called Violet's Kitchen. Check out the screenshots below to see the feature for yourself. Other public accounts include the BBC, HuffPost Elections, and more.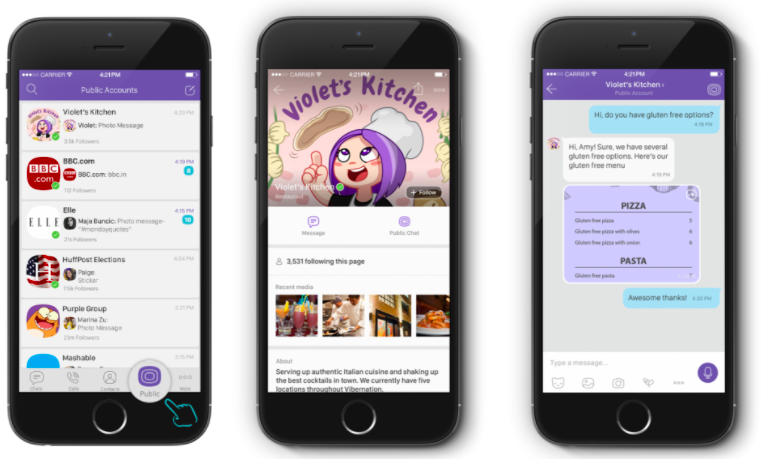 The Public Accounts feature Public Chats, and you'll follow that public chat automatically if you follow the account. The company can make announcements through this account, and you'll see them, plus things like promotions and anything else the company publishes.
Of course, users can also privately message the companies and hold one-on-one chats for things like customer service and other private matters. The move serves to distinguish Viber from WhatsApp a considerable bit, and also encroaches upon Facebook Messenger's territory — that app has a very similar feature, in that you can start messages with companies and then you'll basically be 'subscribed' to get promotions and messages from them.
SOURCE: Viber Blog