Viacom Revives Landmark Lawsuit Against YouTube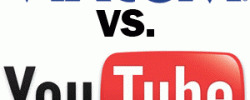 Viacom has won an appeal to revive the landmark $1 billion copyright lawsuit filed against Google over copyrighted videos being uploaded to YouTube without permission. The case was ruled in Google's favor back in June 2010, setting a guideline governing user uploaded content. But now the tides may be about to change.
The US Court of Appeals for the Second Circuit released the decision today that would resurrect the lawsuits filed against Google by Viacom as well as by the English Premier and other film studios and TV networks. The plaintiffs believe that Google is knowingly turning a blind eye to the copyright infringement on YouTube.
The original decision in favor of Google interpreted the Digital Millennium Copyright Act's safe harbor rules to protect website owners unless they have knowledge of copyrighted material being infringed on their sites.
YouTube has responded to the reversal, saying "all that is left of the Viacom lawsuit that began as a wholesale attack on YouTube is a dispute over a tiny percentage of videos long ago removed from YouTube. Nothing in this decision impacts the way YouTube is operating."
[via Reuters]