VIA vm7700 VMPC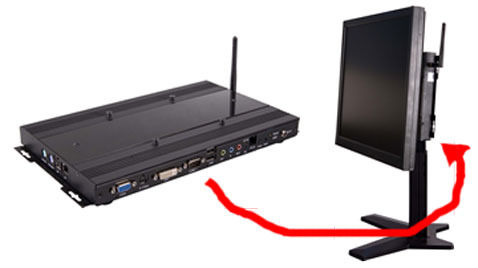 Want an all-in-one PC but have problems with the screens they offer with them? Me too, but up until now it hasn't quite been that easy, now VIA (yes the processor and pico/micro/nano ITX board manufacturer) has your back.
No literally, they have your back and your monitor's back as that's where their new fanless PC mounts to. To all those people who thought the VESA mounts were next to useless, you were wrong.
So, all in, this thing is a 1-inch thick fanless PC with a 1 or 1.5 GHz VIA CPU, a low power media processor, up to 1GB of DDR2, a 2.5" HDD, 1GB Ethernet and the option of a WiFi b/g module, and DVI, D-Sub, and S-Video outs. There isn't any word on price, and judging from the looks of it, it's aimed at the business sector, but I am sure it will hit the public Market soon.
Turn a Monitor Into an All-In-One with VIA's Fanless Ultrathing vm7700 VMPC [via gizmodo]