VIA VIPRO VP7710 fanless touchscreen panel PC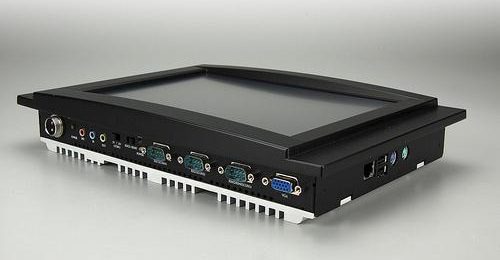 VIA have announced the VIPRO VP7710, a fanless touchscreen panel PC intended for industrial and commercial applications but likely to prompt at least a little interest from domestic custom installers.  Based on either a 1.6GHz VIA Eden or 1.0GHz C7 processor with up to 1GB of DDR2 RAM, the primary means of input is using the 10.4-inch water and dust resistant touch panel.
Connectivity includes gigabit ethernet, optional WiFi, two USB 2.0 ports, three COM ports, PS/2 support, HD audio and VGA. VIA's UniChrome Pro II 2D/3D graphics and MPEG-2/4 and WMV9 hardware accelerated decoding is also onboard, and the VIPRO can be wall, table or VESA mounted.
Storage can be either IDE or SATA hard-drives, or Compact Flash based. The VIA VIPRO VP7710 is available now, priced at $973.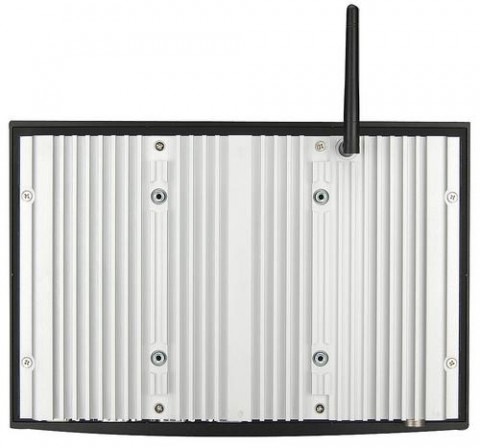 Press Release:
VIA Launches VIPRO Touch-Screen Panel PC

Affordable, intelligent and durable, the ultra thin VIA VIPRO VP7710 supports dual displays for today's sophisticated industrial and commercial applications

Taipei, Taiwan, November 18 2008 – VIA Technologies, Inc, a leading innovator of power efficient x86 processor platforms, today announced the VIA VIPRO VP7710 touch screen panel PC, a full featured, entirely fanless panel PC suitable for intelligent display applications in demanding environments. Rugged, stable and flexible, the VIA VIPRO is the first in a series of advanced display technologies from VIA.

Amid growing public acceptance of intuitive touch screen technologies, the VIA VIPRO addresses an increasing demand for cost effective, intelligent displays in commercial applications such as ticketing, ATM, vending and information kiosks as well as sophisticated fleet deployment infrastructures in transport, delivery and logistics enterprises.

The resilient VIA VIPRO is highly suited for human-machine interface (HMI) industrial applications such as factory automation and control, supporting the addition of a second independently configured screen for dual-display applications.

Using a combination of heavy steel and aluminum, a vibrant 10.4" TFT display is housed in a solid chassis that provides ample shock and vibration protection. The touch screen itself conforms to IP65 standards, making it resistant to both water and dust. Installation via wall, table, panel or VESA mounting options means the ultra thin VIA VIPRO can be installed easily in a variety of positions where its wider than normal viewing angle makes it visible to all.

"The VIA VIPRO is the first in a series of cost-effective, intelligent touch screen panel displays from VIA," said Daniel Wu, Vice President, VIA Embedded, VIA Technologies, Inc. "Intuitive information delivery is has quickly become a necessity for today's modern kiosk and vending machines. The VIA VIPRO addresses the need for a flexible and reliable solution."

The VIA VIPRO fanless panel PC is available now to system developers. More information about the system may be found at the VIA website at:

VIA VIPRO VP7710 System Details

Powered by either a 1.6GHz VIA Eden or 1.0GHz C7 processor, the VIA VIPRO VP710 supports up to 1GB of DDR2 system memory and boasts integrated VIA UniChrome™ Pro II 2D/3D graphics and MPEG-2/4, WMV9 hardware accelerated decoding. It also supports an additional independently configured display through a VGA port for dual-display applications.

The VIA VIPRO has a 10.4" TFT display with a wide viewing angle and light transmission of 82.5%. Its IP65 touch panel is water and dust resistant while the chassis is shock resistant up to 50G and can handle vibrations of up to 5G.

Storage includes support for both IDE and S-ATA 2.5" hard drives and a compact flash socket. Connectivity includes Gigabit LAN support and an optional wireless module. The low panel I/O includes two USB 2.0 ports, three COM ports, with variable RC settings and PS/2 support. HD audio is accessible through standard audio jacks.

About VIA Technologies, Inc.

VIA Technologies, Inc is the foremost fabless supplier of power efficient x86 processor platforms that are driving system innovation in the PC, client, ultra mobile and embedded markets. Combining energy-saving processors with digital media chipsets and advanced connectivity, multimedia and networking silicon enables a broad spectrum of computing and communication platforms, including its widely acclaimed ultra compact mainboards. Headquartered in Taipei, Taiwan, VIA's global network links the high tech centers of the US, Europe and Asia, and its customer base includes the world's top OEMs and system integrators. www.via.com.tw