VIA unveils first quad core pico-ITX mainboard supporting 3-D displays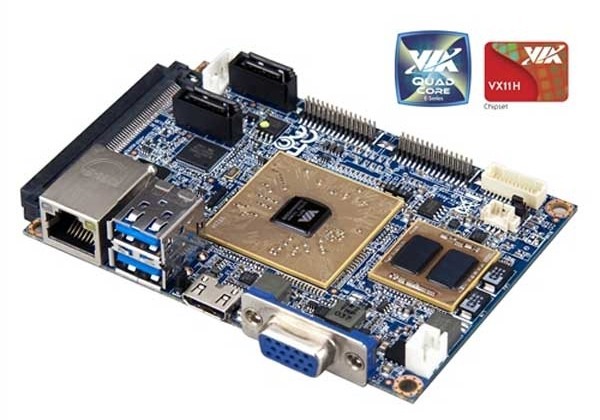 VIA has announced an interesting new pico-ITX mainboard. This little mainboard is very compact at 10 cm x 7.2 cm and is the first to offer a quad-core processor and support 3-D display capability. The little board is called the VIA EPIA-P910 Pico-ITX Board and uses the VIA VX11H MSP and the VIA QuadCore E-series processor.
This is the first board from the company to use the VX11H MSP, which provides advances in graphics capability, including support for DirectX 11. The display hardware on the board also supports rich textures and 3-D stereoscopic displays. The QuadCore E-Series processor operates at 1 GHz, and the board promises high-performance computing in a very small and power miserly design.
Despite its small size, the little board has impressive connectivity options. It offers HD audio, HDMI out, VGA out, and a LVDS display connector. The board also has a high-performance hardware HD video decoder called the VIA Chromotion 5.0 video processor. The little board supports up to 8 GB of 1333MHz DDR3 memory.
The board also features pin headers and an expansion board-to-board connector that provides support for the addition of six more USB 2.0 ports, an LPC connector, SMBus connector, PS/2 port, audio ports, and more. Integrated back panel connectivity options include HDMI 1.4a, VGA, dual USB 3.0 ports, and a gigabit LAN port. Pricing and availability for the little board are unknown.