VIA P710-HD graphics module for Pico-ITXe board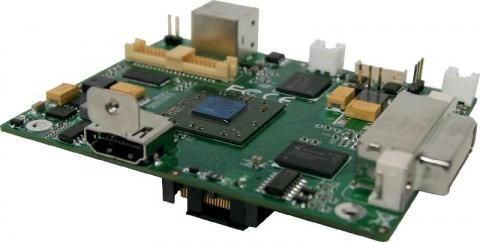 VIA have announced an HD-capable expansion board for their EPIA-P710 Pico-ITXe board.  The VIA P710-HD uses an S3 Graphics 4300E video processor and allows for dual DVI, HDMI and S-Video, multiple displays and above-1080p resolution support.
In fact the P710-HD can drive displays up to 2560 x 1600 resolution with 2-channel LVDS and an analog VGA header for legacy applications.  There's also an integrated HDTV HD encoder which supports all eighteen of the DTV ATSC and DVB standards, plus WMV9 HD, MPEG-2 HD, VC-1, H.264 and AVS codec support, despite a TDP of less than 8W.
The P710-HD uses the SUMIT connector standard to piggy-back on top of the VIA EPIA-P710 board.  SUMIT incorporates PCI Express, LPC, SPI and USB 2.0 connectivity.  No word on pricing for the new HD expansion board.
Press Release:
VIA Delivers Stunning Hi-Def Video and DX10.1 to Pico-ITXe

The VIA P710-HD module turns the VIA EPIA-P710 Pico-ITXe board

into a multimedia playback powerhouse

Taipei, Taiwan, March 30, 2009 – VIA Technologies, Inc, a leading innovator of power efficient x86 processor platforms, today announced the first expansion HD module for the VIA EPIA-P710, the VIA

P710-HD. Featuring the powerful 4300E embedded graphics processor from S3 Graphics, this first Pico-I/O module for stackable Pico-ITXe boards delivers Hi-Def™ video playback and advanced graphics in an extremely low power, compact form factor.

With multiple display support including dual DVI and HDMI, the VIA P710-HD module opens up a new realm of possibilities to system integrators of multimedia intensive embedded applications.

Sophisticated digital signage, arcade gaming, kiosk and POI applications can now take advantage of multiple digital display configurations and cutting edge Hi-Def playback of resolutions up to and beyond 1080p.

Supporting connectors based on the SUMIT™ specification, the VIA P710-HD module can be used with the VIA EPIA-P710, the first board to take advantage of the new Pico-ITXe standard and SUMIT™ connector specifications.

"VIA is again placing itself ahead of the competition in bringing to market all the benefits of high-definition visual computing in an ultra-low power, ultra compact product," said Daniel Wu, Vice President of VIA Embedded, VIA Technologies, Inc. "The VIA P710-HD module, when paired with a Pico-ITXe board, opens up a new world of digital brilliance."

The VIA P710-HD module will be shown at Embedded Systems Conference San Jose, USA, taking place next week. For more information please visit:

About the VIA P710-HD Module

The VIA P710-HD module is based on the S3 Graphics 4300E embedded graphics processor and includes 256MB of dedicated GDDR 2 on-board memory, supporting separately configurable dual DVI, HDMI and S-Video ports at resolutions up to 2560 x 1600 with 2-channel LVDS and an analog VGA header also available.

The S3 Graphics 4300E is designed to offer extreme power efficiency with a total graphics subsystem TDP of less than 8 watts. The S3 Graphics 4300E embedded graphics processor boasts a highly programmable video core, fully compatible with Blu-ray Disk™ technology with codec support including WMV9 HD, MPEG-2 HD, VC-1, H.264 and AVS, all within a ruthlessly low power envelope.

The S3 Graphics 4300E is a fully DirectX 10.1 and OpenGL 2.1 compliant part supporting dual DVI, HDMI, S-Video and LVDS transmitters across PCI Express 2.0. The integrated HDTV Hi-Def encoder technology supports all eighteen DTV ATSC and DVB standards, including 1080p.

For more details about the VIA P710-HD module please visit:

More information about the S3 Graphics 4300E is available here:

The Pico-ITXe Stackable Form Factor

Measuring 10cm x 7.2cm, the VIA EPIA-P710 Pico-ITXe board features two SUMIT™ (Stackable Unified Module Interconnect Technology) connectors that integrate common high and low speed, legacy and serial expansion buses, including PCI Express, LPC, SPI and USB 2.0. This extensive support sets Pico-ITXe apart from competing standards, facilitating an off-the-shelf solution to power the next generation of embedded devices. SUMIT is an open standard administered by the SFF-SIG.

More information about the Pico-ITXe form factor can be found here:

To learn more about the VIA EPIA-P710 Pico-ITXe board visit:

http://www.via.com.tw/en/products/mainboards/motherboards.jsp?motherboard_id=730