VIA outs ARTiGO A1150 PC Kit in a tiny chassis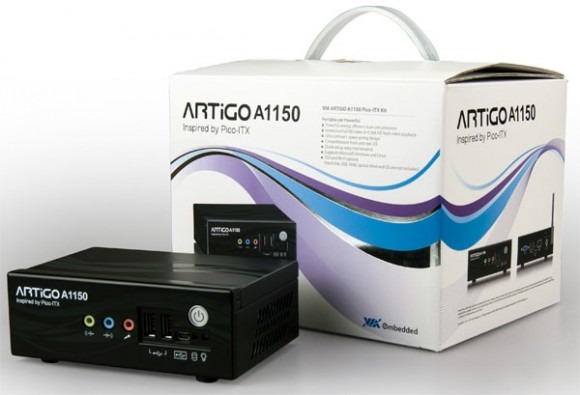 VIA has pulled the covers back to show off its tiny little ARTiGO A1150 dual-core PC kit for the enthusiasts out there looking for a tiny chassis to fit on a desk or in an entertainment system. The A1150 is a sub-liter machine that uses a VIA 1GHz dual-core Eden X2 processor and has HD video support. The video outputs on the back include VGA and HDMI.
The tiny computer also has gigabit networking support and WiFi integrated along with five USB ports. The machine measures in at a compact 5.7" x 3.9" x 2" and has 64-bit computing support. Along with the 1GHz CPU, the machine also has a VIA VX900H media system processor so it can handle HD video in multiple formats without taxing the CPU.
The little computer also has a SD card reader integrated. This would make a nice little HTPC that consumes little power and it should have very minimal heat output as well. The link to the official page for the computer isn't working just yet. Pricing and availability are unknown. I would expect this to be a cheap machine though.