VIA NetNote "mashups" unveiled: 1080p HD capable ultraportables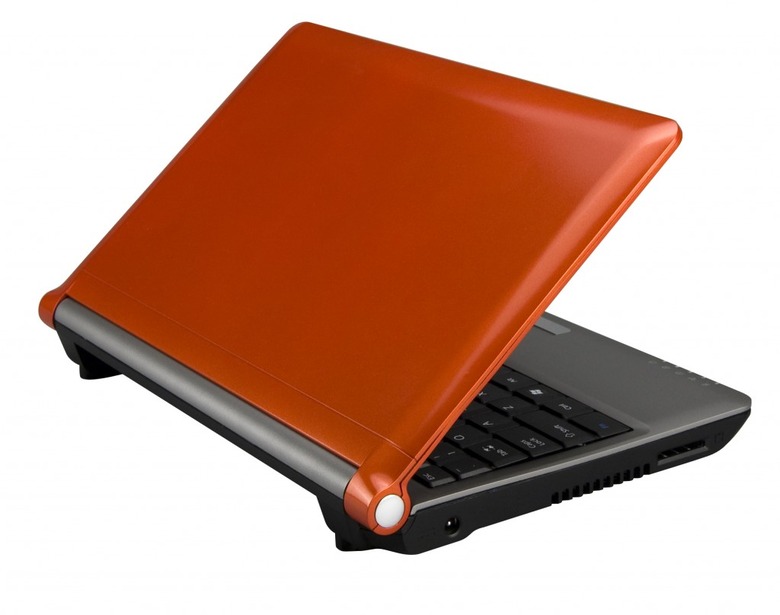 VIA have announced their latest ultraportable reference design, the NetNote, which the company describes as "a mashup between the netbook and the traditional notebook."  Based on VIA's Surfboard mainboards, using either VIA C7-M or Nano CPUs, the NetNotes will have screens ranging from 10.2-inches to 12.1-inches and play back Full HD 1080p video.
Other possibilities include an HDMI port, hardware video acceleration and integrated 3G, all from VIA's Surfboard platforms.  Positioned as an OEM solution (rather than being marketed directly to end-consumers), the NetNotes could also have an FM transmitter, digital TV receiver with extendable antenna, or even an externally-controlled MP3 player which wouldn't require the NetNote to be booted up.
From our talks with VIA about the platform, it seems they're not so much focussed on kick-starting a new niche with NetNotes – in fact it's more of an internal name – but instead wanting to draw attention to netbooks with performance.  The VIA NetNote Turnkey Systems will have their formal debut at ShenZhen TechForum Autumn 2009 next week, where the company is promising 35 designs together with pricing and availability information.
Press Release:
VIA Unveils SurfBoard Platforms and Turnkey Systems for New NetNote Category

NetNote blends the portability and affordability of netbooks with the functionality and HD video capabilities of notebooks to define a new sweet spot in the mobile computing market

Taipei, Taiwan, 16 September 2009 – VIA Technologies, Inc, a leading innovator of power efficient x86 processor platforms, today announced additions to its growing range of VIA Surfboard mainboards along with turnkey systems designed to enable a new category of NetNote mobile computing devices.

A mashup between the netbook and the traditional notebook, the NetNote combines the portability and affordability of a netbook with the functionality and HD entertainment capabilities of a notebook in a light, high performance clamshell mobile device with long battery life, screen sizes of between 10.2" – 12.1", and support for flawless playback of high bit-rate 1080p HD video.

"NetNotes are illustrative of the type of device that is possible after artificial restrictions on screen size, resolution and connectivity are removed," said Richard Brown, Vice President of Marketing, VIA Technologies, Inc. "Light, snappy ultra mobile devices with notebook-level functionality are what consumers want and what the NetNote category of device provides."

Combining the highly-integrated VIA VX855 media system processor with a choice of VIA C7™-M ULV or VIA Nano™ processors, two new VIA Surfboard NetNote Edition Platforms provide high-quality, energy-efficient and feature-rich "ready to build" solutions for manufacturing NetNote devices.

Additionally, complete VIA NetNote Turnkey Systems offer customers a quick, low cost approach to entering the mobile computing market or expanding their current product portfolio.

Along with support for hardware acceleration of a broad variety of leading video standards including H.264, MPEG-2/4, VC-1 and WMV9, NetNotes come with a host of other advanced features including an optional HDMI port and a choice of integrated 3G connectivity modules.

VIA GMB Alliance – Harnessing the China Growth Engine

The new VIA Surfboard NetNote Edition platforms and VIA NetNote Turnkey Systems have initially been made available to members of the VIA Global Mobility Bazaar (GMB) Program – an alliance of leading China hi-tech manufacturers focused on harnessing the country's emerging manufacturing base and rapid domestic growth to bring innovative mobile computing devices to China and other fast-emerging markets around the world.

Over 40 companies in the VIA GMB Alliance have developed more than sixty mobile systems based on VIA SurfBoard platforms since its establishment in October 2008. All have expressed support for the new NetNote category, and the first NetNote products are expected to be introduced into the market later this month.

Through the provision of high quality, high performance building blocks such as VIA platforms and turnkey systems, the VIA GMB Alliance aims to build up the mobile device ecosystem in China ultimately enabling manufacturers to offer innovative, affordable mobile solutions to global markets.

The new VIA NetNote platforms and systems will be on show at the next VIA Global Mobility Bazaar Alliance event to be held on Friday 25 September in Shenzhen, China. Further details can be found at: www.via.com.tw/en/company/events/2009gmb-techforum-autumn

About VIA NetNote Platforms and Systems

Designed for 10.2"-12.1" NetNote devices, the feature-rich yet highly power-efficient VIA Surfboard NetNote Edition Platforms feature a choice of VIA C7-M ULV or VIA Nano processors supporting an 800MHz FSB, combined with the VIA VX855 media system processor with its support for a wide range of digital media technologies and I/O.

The advanced graphics of the VIA Surfboard NetNote Edition Platforms is powered by the high performance VIA Chrome9 HCM IGP and allows for flawless playback of 1080p HD video at amazingly low processor utilization levels. The boards also feature HDMI ports that can be used to deliver HD content to external displays.

The latest high definition audio is supported through VIA Vinyl 8-channel HD audio, and a rich range of connection options includes support for Bluetooth, Wi-Fi, GPS and 3G for unparalleled flexibility.

More information about the VIA SurfBoard NetNote Edition Platforms may be found on the VIA website at: www.via.com.tw/en/initiatives/spearhead/netnote-edition-platforms

VIA NetNote Turnkey Systems not only boast the full functionality and larger keyboard and screen sizes more commonly found on standard notebook devices, but also incorporate innovative features such as an integrated, externally controlled MP3 player that doesn't require the user to boot the OS, an extendable aerial used to receive digital video broadcast from both satellite and terrestrial transmitters, and the ability to act as an FM transmitter allowing users to tune in car radios or cell phones to pick up NetNote broadcasts.

More information on the VIA NetNote Turnkey Systems may be found on the VIA website at: www.via.com.tw/en/initiatives/spearhead/netnote-turnkey-system

About VIA Technologies, Inc.

VIA Technologies, Inc is the foremost fabless supplier of power efficient x86 processor platforms that are driving system innovation in the PC, client, ultra mobile and embedded markets. Combining energy-saving processors with digital media chipsets and advanced connectivity, multimedia and networking silicon enables a broad spectrum of computing and communication platforms, including its widely acclaimed ultra compact mainboards. Headquartered in Taipei, Taiwan, VIA's global network links the high tech centers of the US, Europe and Asia, and its customer base includes the world's top OEMs and system integrators. www.via.com.tw