VIA Eden X2 CPU Is Most Frugal Dual-Core Today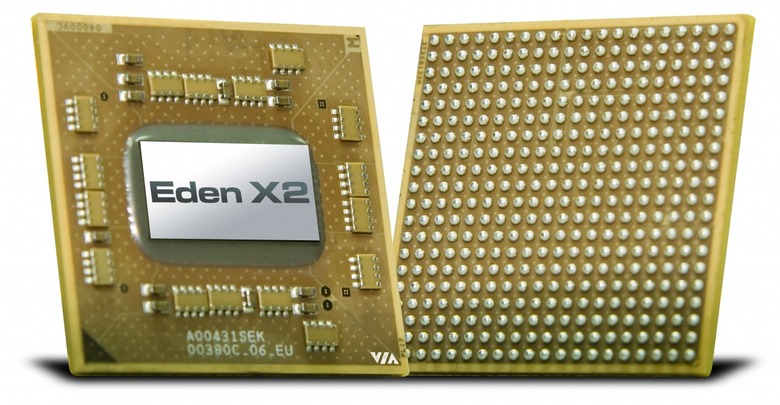 VIA has outed its latest CPU, the VIA Eden X2, a dual-core 64-bit chip intended for fanless systems. The company claims the Eden X2 sips the least power of any dual-core x86 processor around, and throws in an integrated AES Security Engine for data security.
Two VIA Eden cores are used, in a package that's actually the same size as the company's existing single-core processors for pin-for-pin compatibility. While VIA is targeting embedded devices, we could certainly see the Eden X2 finding a space in a Google TV set-top box, bypassing the work needed to port the OS to ARM chips and offering a lower-power alternative to Intel's Atom.
Press Release:
VIA Eden X2 Unveiled at Embedded Word 2011, World's Most Power-Efficient Dual Core Processor

VIA Eden X2 processors bring unrivalled power efficiency and fanless stability to embedded markets without compromising on performance

Taipei, Taiwan, 1 March, 2011 – VIA Technologies, Inc, a leading innovator of power efficient x86 processor platforms, today announced the new VIA Eden X2 processor, the industry's lowest power dual-core processor, optimized for fanless implementation in a broad range of industrial and commercial embedded systems. VIA Eden X2 will debut at Embedded World 2011, Nuremberg, Hall 12, Booth No. 574

VIA Eden X2 processors combine VIA's signature 'Eden' fanless design principles, in a highly optimized, power-efficient dual-core architecture. This guarantees rock-solid stability for mission critical embedded systems without compromising on performance or features. With a component longevity guarantee of 7 years, VIA Eden X2 processors are guaranteed to extend the reach of fanless system design for years to come.

"Eden X2 shows how once again VIA is setting the pace when it comes to highly optimized, power-efficient processing," said Daniel Wu, Vice President, VIA Embedded Platform Division, VIA Technologies, Inc. "Embedded developers will relish the opportunity to integrate a native 64-bit, dual-core processor in passively cooled, ultra stable systems."

VIA Eden X2 – Dual-Core Processing on a Fanless Power Budget

Leveraging the latest 40nm manufacturing process, VIA Eden X2 processors combine two 64-bit, superscalar VIA Eden cores on one die, offering enhanced multi-tasking and superb multimedia performance on a rigidly low power budget. VIA Eden X2 processors are the most power-efficient processors on the market, designed to offer the ideal solution for fanless system design.

VIA Eden X2 processors bring additional features that include VIA VT virtualization, a technology that allows legacy software and applications to be used in virtual scenarios without impacting on performance. The unique VIA AES Security Engine offers hardware-based data encryption on the fly, and essential tool in content protection and system security.

VIA Eden X2 processors are natively 64-bit compatible, facilitating an essential transition for the future of the embedded industry as 64-bit operating systems such as Windows® Embedded Standard 7 allow for vastly improved data throughput per clock cycle. This makes it easier to manipulate large data sets and improves overall performance. VIA Eden X2 processors are also fully compatible with Windows CE and Linux operating systems.

VIA Eden X2 processors are based on the latest 40nm manufacturing process using a VIA NanoBGA2 package of 21mm x 21mm with a die size of 11mm x 6mm. All VIA Eden X2 processors and are fully pin-to-pin compatible with VIA Eden, VIA C7 and VIA Nano E-Series processors.

Product Highlights

l Industry-leading power-efficient architecture

l 7 year longevity guarantee

l Advanced multi-core processing

l Native support for 64-bit operating systems

l High-performance superscalar processing

l Out-of-order x86 architecture

l Most efficient speculative floating point algorithm

l Full processor virtualization support

l Advanced power and thermal management

l VIA AES hardware security features

l Pin-to-pin compatibility with VIA processors range

VIA Eden X2 Processors are sampling now to project customers. Systems and boards featuring the VIA Eden X2 will be available in Q2 2011.

For information about VIA Eden X2 processors, please visit:

http://www.via.com.tw/en/products/processors/edenX2/