VEVO redesigned with Facebook login required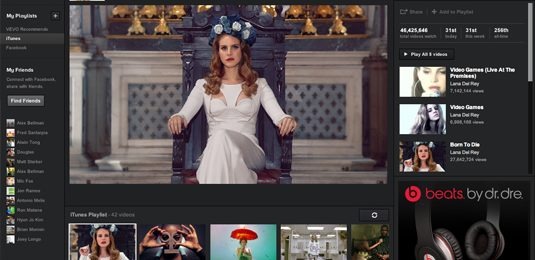 VEVO, a music video site co-owned by Sony Music and Universal Music, launched a revamped website today along with new iOS and Android apps, all with greater social elements through integration with Facebook. The redesigned VEVO site features a larger player and continuous playback of videos based on personalized playlists sourced from a user's iTunes library and Facebook activity.
The new VEVO now requires users to login through Facebook, suggesting that the service is shifting away from the YouTube platform to what some believe to be an eventual acquisition by Facebook. However, this is only speculation right now. The service uses your Facebook friends and activities to automatically populate playlists of suggested music videos.
This Facebook integration is also seen in the updated iPhone and Android VEVO apps with the update coming soon to the iPad. The app will match your friends' Facebook music likes and saved playlists.
On the iPhone, you'll be able to also match music videos with your iTunes library with suggestions based on your music tastes. Additionally, VEVO on the iPhone is compatible with Apple's AirPlay wireless streaming, allowing you to easily stream music videos from your phone to your TV. Another way to enjoy VEVO on your TV is through its new Xbox app, but it is a US-only service for now.
[via MobileSyrup]