Vertu presents its latest in absurdly expensive phones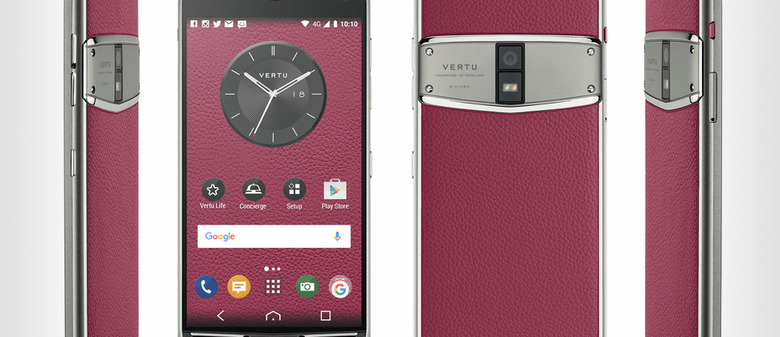 If you're the type of person who likes a phone that makes a statement, you can't really go wrong with the new Vertu Constellation. The Constellation is the latest in the line of ultra-expensive smartphones from British manufacturer Vertu, and luxury is definitely the name of the game. With anodized aluminum, a soft leather back, and even inset rubies, you'd be hard pressed to find a phone more expensive than this.
To be fair, Vertu hasn't announced a price for the Constellation yet, so the claim made above may not be entirely accurate. Still, previous phones from Vertu have come dangerously close to a retail price of $10,000, so we can probably speculate with some degree of certainly here. Regardless of what the final figure is, the Constellation will be one expensive phone.
What will thousands of dollars get you? You'll have the aforementioned aluminum frame and soft leather back, and that inset ruby I mentioned is actually a button that will connect you to Vertu's 24-hour concierge service. While not quite as impressive as offering an on-demand concierge, the Constellation also put a significant focus on security. Each and every call you make will be encrypted thanks to Vertu's team up with Silent Circle, which sounds like the perfect addition for those who lead a high society lifestyle.
As far as hardware is concerned, there's here less to make the phone stand out. You'll get a quad-core Snapdragon 820 from Qualcomm to run the show, which is paired with 4GB of RAM. The phone's sapphire crystal 5.5-inch display outputs at 2560 x 1440 resolution, while its battery clocks in at a relatively beefy 3,220mAh. You'll also have 128GB of onboard storage out of the box, but one area where the Constellation falters is in its choice of Android version: this phone will be running Android 6.0 Marshmallow instead of the newer Nougat.
Not offering Nougat out of the box is a bummer, but then again, getting the latest and greatest version of Android isn't the reason you buy a Vertu phone. While we don't have a price for the Constellation yet, we won't have long to wait for one. The Vertu Constellation launches worldwide in mid-February, so we'll know how much this phone will cost by then.