Verizon's new Ellipsis tablet was made for kids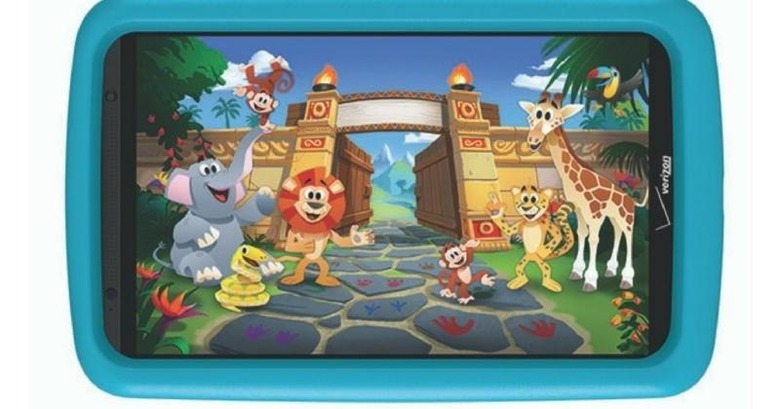 Although not as popular as some of the top brands in the tablet market, Verizon has regularly put out its own brand of slates aimed at budget conscious customers. Now it's bringing its Ellipsis brand to its youngest demographic yet. Joining the announcement of the new GizmoPal 2 and GizmoGadget from LG, Verizon is revealing the Ellipsis Kids tablet. The name says it all, delivering an Android tablet that's designed both inside and out for kids, with age-appropriate content, colorful rugged bumpers, and, of course, parental controls.
While other kids tablets partner with the likes of Disney for content, Verizon has gone with the Zoodles platform instead. With the Ellipsis Kids tablet, buyers get a premium subscription to Zoodles and all its content, which range from games, to videos, to books, all age-appropriate and under full control of the parents. Parents simply input their child's age and interest and Zoodles takes care of selecting matching content and themes. Of course, parents can also set time limits and content blocks of their own.
Kids aren't exactly the most forgiving when it comes to using devices, which they do see as toys. To give parents ease of mind, the Ellipsis Kids tablet features "Kid-tough" bumpers to protect it from falls and bumps. Those bumpers are brightly colored and attractive to young eyes and can be swapped with other colored bumpers and kickstands, which will also be available soon.
Although designed for kids, the tablet is also a decent entry level Android device in its own right. It has an 8-inch HD IPS display and 4G LTE connectivity, on Verizon's network, of course. 16 GB of internal storage can be supplemented by 32 GB more. In fact, the tablet can also be used by parents themselves for browsing the Internet, watching videos, and playing games.
The Verizon Ellipsis Kids tablet will become available starting November 12 for a full retail price of $249.99. On the carrier's device installment plan, it goes for $10.41 monthly payments for 24 months. Alternatively, it can also be purchased with a traditional two-year contract for $79.99.
SOURCE: Verizon