Verizon Workers Strike, 45,000 Union Members Strong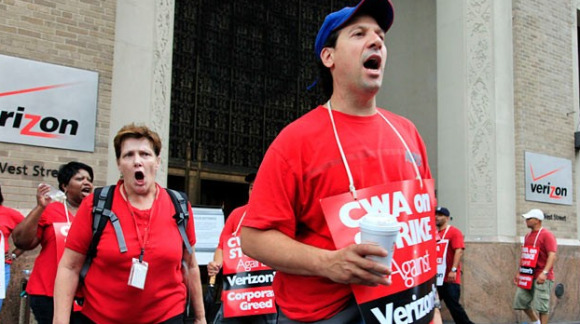 Today workers from Washington D.C. to Massachusetts went on strike one day earlier than originally planned as a new contract failed between Verizon and phone repair technicians, customer service representatives and cable installers. This new contract included health care coverage, pensions and work rules was stalled upon Verizon demanding 100+ concessions from workers. The Communications Workers of America (CWA) and the International Brotherhood of Electrical Workers (IBEW) went on strike today and say they will continue until an agreement is met.
Verizon noted today that the that the strike will not affect Verizon Wireless customers, instead noting that because it involves call center workers and field technicians, it could affect customers with Internet service, land line phones, and Verizon's FiOS television. Verizon also notes that management and retirees are prepared to cover for striking workers as a contingency plan. Verizon spokesman Richard Young noted the following about the situation:
"Tens of thousands of Verizon managers and other personnel have been trained to perform emergency work assignments. They are trained in various functions including making network repairs, customer service, billing, back office support and other duties." – Richard Young
Verizon notes that its wireline business has been declining over the past 10 years and that they're asking employees in the business to "contribute" their healthcare plans amongst other concessions to make up the gap. Young continues:
"We've put important issues on the table and we're willing to negotiate. However, the unions were unwilling to negotiate on anything that's critical."
Union workers have a different view of the situation of course, they speaking from the perspective of a middle-class worker as opposed to a multi-million-dollar CEO. CWA political director noted the following:
"A company with those kinds of profits, where the CEO Ivan Seidenberg makes 300 times the salary of the average worker — he made $18 million just last year — to demand the sweeping cuts that they have put on the table is outrageous and unacceptable. We're saying to them, it's time to get serious about bargaining; bargain in a constructive way and back off from these attacks on middle class jobs." – Bob Master
Anita Long, a worker who has been with Verizon for 32 years, had similar comments:
"Why do the people at the bottom always have to give back concessions? Why is it not the top management giving back, when my CEO brings home $23 million in one year, I have a problem with that, but you want to take away my pensions, my medical benefits?" – Anita Long
We'll continue to cover this situation until it's resolved. The image at the top of this post was photographed by Mark Lennihan on August 7th in front of Verizon Headquarters in New York.
[via ABC News]