Verizon Wireless Network Extender launches: $250 upfront, no service fees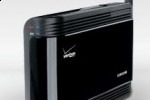 Verizon's femtocell, the Network Extender, has been officially launched, and at first glance it's a far better deal than Sprint's rival AIRAVE.  Although the two units themselves are basically identical – promising to create your own CDMA mini-network, by routing cellphone calls and data over your broadband connection when Verizon's own network is insufficient – the difference comes in the pricing.  The Verizon Wireless Network Extender is priced at $249.99, but after that there are no monthly fees.
This is in direct contrast to Sprint, who require a monthly subscription in order to keep using their femtocell.  It's a policy that has left many would-be users frustrated, as they see themselves not only paying Sprint for their cellular contract but also paying to patch the holes in the carrier's coverage.
The Verizon Wireless Network Extender requires a minimum broadband speed of 300Kbps (though more is obviously better), and can only be used within the "Verizon Wireless Enhanced Services coverage area"; the femtocell will use a GPS puck to make sure you're only trying to connect it within the US.  Although data is supported, it won't allow EV-DO speeds, and neither will it make any difference to location-based services.  Interesting, the features page suggests the following:
"The Network Extender is compatible with all Verizon Wireless phones as well as some handsets from many of the nation's leading carriers"
It's unclear whether this merely refers to MVNO's using Verizon's network, or other CDMA carriers such as Sprint.  The former seems a more likely explanation.
[thanks Paul!]