Verizon Wireless Network Extender femtocell coming January 25th for $250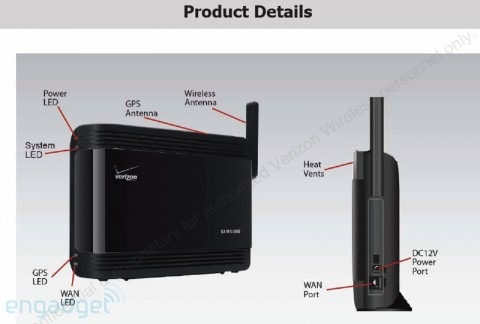 Having stopped by the FCC back in November, the newly-named Verizon Wireless Network Extender has now shown up in some staff briefing documents complete with a January 25th expected release date.  Still rocking its Darth livery, underneath lurks the same Samsung femtocell as Sprint used in their AIRAVE; hooked up to your broadband connection, it creates your own personal CDMA cloud ideal for making calls in areas previously lacking Verizon coverage.
In fact you can create your own 5,000 square foot CDMA network, with calls and data being shuffled across your internet connection.  Up to three individual calls can be active at any one time but, like the Sprint implementation, the Verizon Wireless Network Extender demands a GPS puck be attached to make sure you're not using it outside of the US.
Expect the femtocell to land in Verizon stores and online on January 25th, priced at a not-inconsiderable $249.99.  It's unclear from the carrier's documentation whether, like Sprint, they'll be charging a monthly fee for use of the device.