Verizon Wireless Launches the New BlackBerry 8703e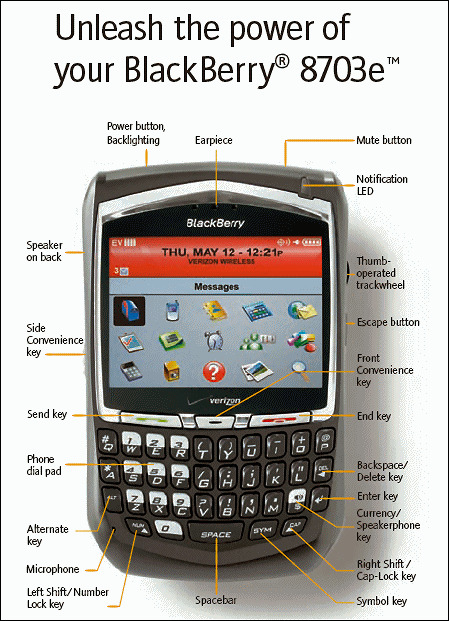 Verizon Wireless and Research In Motion (RIM) (Nasdaq: RIMM; TSX: RIM) today introduced the new BlackBerry® 8703e operating on Verizon Wireless' Evolution-Data Optimized (EV-DO) network.   Available to Verizon Wireless customers beginning Sunday, September 17, the BlackBerry 8703e integrates advanced device hardware, software and network technologies in a powerful handset with a full 35-key QWERTY keyboard.
The BlackBerry 8703e offers Verizon Wireless customers an exceptional user experience for   "push" e-mail, Web browsing and other mobile data applications, together with premium mobile phone features including dedicated phone keys, smart dialing, conference calling, speed dialing, call forwarding, built-in speakerphone for conference calls and hands-free use and Bluetooth® support for use with headsets and car kits.
The large, bright, high-resolution LCD screen on the BlackBerry 8703e incorporates intelligent light sensing technology that automatically adjusts LCD and keyboard lighting levels to provide optimized viewing in indoor, outdoor and dark environments.
For corporate customers, BlackBerry Enterprise Server™ software tightly integrates with Microsoft® Exchange, IBM Lotus® Domino® and Novell GroupWise® and works with existing enterprise systems to enable secure, push-based, wireless access to e-mail and other corporate data.  For individuals and smaller businesses, BlackBerry Internet Service™ allows users to access up to ten corporate and personal e-mail accounts (including Microsoft Exchange, IBM Lotus Domino and most popular ISP e-mail accounts) from a single device.
Verizon Wireless customers can use their BlackBerry 8703e handset as a modem and get BroadbandAccess on Verizon Wireless' award-winning Evolution-Data Optimized (EV-DO) network.   A simple cable connection from the BlackBerry 8703e to a laptop and a subscription to BroadbandAccess Connect gives customers the option of using Verizon Wireless' wireless broadband service to download data.
BroadbandAccess Connect provides a cost-effective solution for customers who want the option of accessing the Internet from their laptop.  Customers can use BroadbandAccess Connect to download large documents at speeds averaging 400 to 700 kbps on Verizon Wireless' BroadbandAccess service, anywhere within the BroadbandAccess coverage area.  For customers who travel outside a BroadbandAccess coverage area, the handset can seamlessly switch to Verizon Wireless' 1xRTT NationalAccess network to remain connected.
The BlackBerry 8703e is available from Verizon Wireless for $349.99 with a new two-year customer agreement beginning on Sunday, September 17 online and through Verizon Wireless business sales channels on Monday, September 18.   It will be available though Verizon Wireless Communications Stores in October.  BroadbandAccess Connect is available to BlackBerry 8703e customers for $15 monthly access in conjunction with a qualifying voice plan and unlimited data plan; or $30 monthly access in conjunction with an unlimited data plan.   For more information about the BlackBerry 8703e from Verizon Wireless, customers can contact a Verizon Wireless business sales representative directly at 1-800-VZW 4 BIZ or visit www.verizonwireless.com.