Verizon slash smartphone prices to $99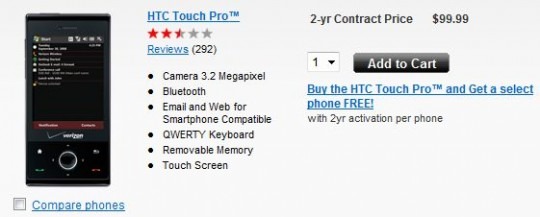 Bargain-hunters in search of their next smartphone may have another reason to stop by their local Verizon store, with the Boy Genius Report suggesting that the US carrier is planning to cut prices of their entire existing smartphone range to $99.  Billed as a reaction to the $99 iPhone 3G on AT&T, it's also speculated that it's preparation for at least two incoming devices.
First off, the CDMA HTC Touch Pro2 is expected to arrive imminently on Verizon, hopefully with the 3.5mm headset jack as seen on its Telus counterpart.  The existing Touch Pro has dropped from $419 to $99.
Secondly, the BlackBerry Storm 2 is expected to be the next, big smartphone to land, though that's not predicted to happen before November 2009.  The Storm 2 is tipped to correct many of the issues users had with RIM's unique click-through capacitive touchscreen, as well as adding WiFi.
[via wmpoweruser]