Verizon shows off Galaxy S III in new commercial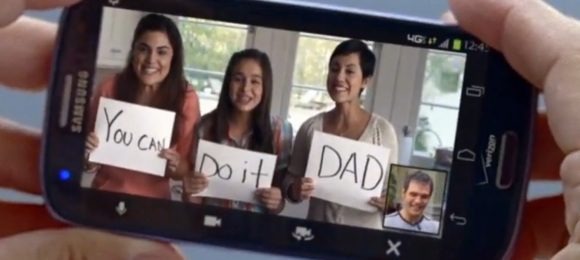 The barrage of commercials for the Samsung Galaxy S III has begun, with Verizon posting up a new one for all to enjoy. In a nice change of pace, there aren't angry robots screaming at you through the television, with the commercial instead following a father trying to get in shape and using his Galaxy S III to do so. Still, there's always something to nitpick, with Droid-Life pointing out that both the Ice Cream Sandwich on-screen buttons and physical button make an appearance.
While the Samsung logo remains at the top of the phone below the earpiece, Verizon has somehow managed to awkwardly cram in its own logo just above the physical home button and below the display. Gotta make sure people know it's a Verizon device, right? All the usual features are touched upon, such as 4G LTE connectivity, video calling, and a reminder that there's a wealth of apps and information right at your fingertips.
Big Red may be advertising the device now, but you won't be able to get your hands on one until July 11th. The 16GB version of the phone will cost $199.99 on a two-year contract, while the 32GB version will set you back $249.99. The North American version of the Galaxy S III includes a dual-core Qualcomm Snapdragon S4 processor, 2GB of RAM, a 4.8-inch Super AMOLED HD 720p display, an eight megapixel camera, and LTE connectivity with a 2,100mAh battery.