Verizon Samsung Continuum SCH-i400 with OLED secondary display leaks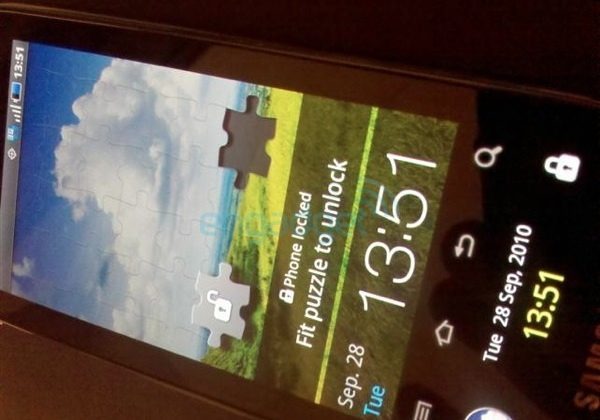 Dual-display cellphones aren't anything like new, and neither are handsets that use OLED or even put two panels on the front of the phone.  However, we're still mustering some excitement about the Samsung Continuum SCH-i400, freshly leaked to Engadget and apparently headed to Verizon complete with Android and two displays, one called the "Ticker".
As the name suggests, the smaller "Ticker" display is used for status updates, alerts and the sort of general information you like to have to-hand but which drains the battery unnecessarily if you keep powering on the main screen to check.  Weather, RSS feeds and the date/time are all tipped for inclusion, and the panel apparently turns on automatically if you grab the bottom of the Continuum.
Otherwise details are pretty scant, though there's a microSD card slot on the side, a dedicated camera button and Galaxy S family branding, while the UI is obviously Samsung's TouchWiz.  Much of the Ticker display's usefulness will depend on how open Samsung is to letting third-party developers get their hands on it, but we'll have to wait until the Verizon Continuum is officially announced before knowing more on that front.