Verizon Release Dates Leaked For Droid Bionic, XOOM 4G, And More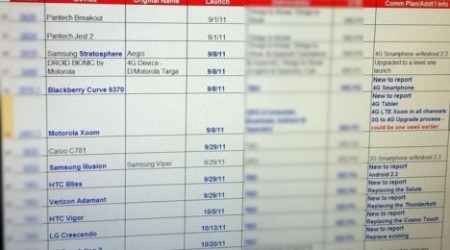 An internal Verizon document has leaked, revealing the exact launch dates for several phones and tablets that we've all been eagerly awaiting. Some of these devices have already been announced, some have only been rumored, and one in particular is way past due.
Motorola's long delayed 4G LTE dual-core flagship phone, the Droid Bionic, has been confirmed for a launch next month. But now we get an exact date for September 8. Also scheduled for release that date, is Motorola's 4G LTE version of the XOOM tablet and the 4G LTE BlackBerry Curve 9370.
Other interesting bits to note from the leak is that the rumored handset designed for women, the HTC Bliss, is scheduled for a September 29 launch. There also looks to be a replacement for the LG Revolution in late October and what might possibly be the 4G LTE 8.9-inch Samsung Galaxy Tab in November.
[via IGN]