Verizon Officially Unveils LG Lancet Windows Smartphone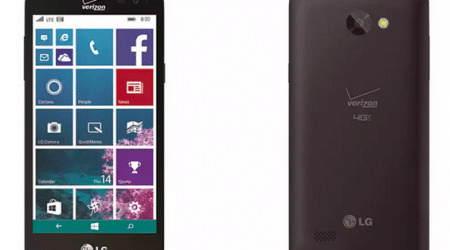 As expected, a new Windows smartphone called the LG Lancet is coming to Verizon Wireless, something the carrier made official today. The LG Lancet is said to be the first Windows Phone offering on Verizon to feature Advanced Calling 1.0, which gives users HD voice calls when talking to another Verizon user with an Advanced Calling handset. In addition, the phone brings with it Windows Phone 8.1 and a load of modest but notable features, including support for a 128GB micro SD card.
The LG Lancet seems pretty similar to many other Windows Phones out there — it features a 4.5-inch LCD display, resolution yet unspecified, as well as a 1.2GHz quad-core processor and 8GB of internal memory. If that's not enough — and as quite a welcomed feature — the phone also supports micro SD cards up to 128GB.
Other specs include an 8-megapixel rear camera and a front-facing camera with a modest VGA resolution. In addition, Verizon says the Lancet will include 25GB of Verizon Cloud storage for More Everything customers, as well as the Knock On feature for double-tapping to turn on the display, and Quick Memo for taking screenshots.
Because the handset is running Windows Phone 8.1, the users will also have access to Cortana, which makes the value of the phone immediately higher. Overall, the handset won't be launching at retail stores until May 21, though those who want it badly can get it now online. Price is $120 USD.
SOURCE: Verizon Wireless