Verizon Motorola Calgary leaks: budget MOTOBLUR slider for Q4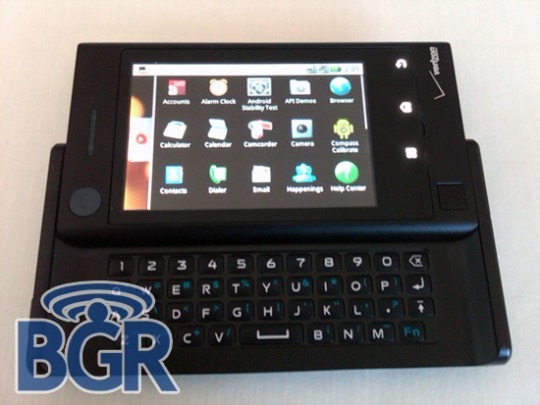 Details on Verizon's second Android smartphone, the Motorola Calgary, have emerged, courtesy of those sneaky buggers over at BGR.  The entry-level counterpart to the Verizon Droid, the Calgary has a similar, blocky form-factor, a spring-assisted slide, full QWERTY keyboard and MOTOBLUR.  There's also a 3-megapixel camera, GPS and WiFi.
Other specs include a digital compass, microSD card slot and 3.5mm headphones socket.  According to the leaky sources at Moto the Calgary is performing really well already, even with a pre-production ROM, and is both smooth and responsive; we don't yet know exactly what processor Motorola have picked.
Up front there's an optical joystick, together with a row of touch-sensitive keys, and the phone performance is apparently up to scratch too.  A release in Q4 with what's likely to be a bargain price tag is expected.