Verizon lands subsidized HP Mini 311 and Mini 110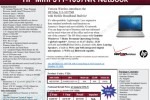 HP unveiled its new Mini 311 and Mini 110 netbooks back in September to the delight of netbook fans everywhere. Today Verizon wireless has announced that it is going to be offering both netbooks at a subsidized price with its 3G mobile broadband service. The Mini 311 won't land until Windows 7 launches in a few days though.
In case you forget the specs of the machines, the Mini 311-1037NR has Windows 7 Home Premium, an Intel Atom N270 processor at 1.6GHz, and 2GB of RAM. The device has 160GB HDD and the screen is an 11.6-inch LED backlit HD resolution unit. Bluetooth and 802.11n Wi-Fi are built-in as well. The big feature is NVIDIA Ion graphics.
HP will also be offering the Mini 110-1046NR netbook featuring Windows XP Home, N270 processor, 1GB of RAM, 160GB HDD, and a 10.1-inch LCD. Naturally both the Mini 311 and 110 support CDMA and EVDO 3G broadband connectivity. The Mini 311 is going to sell for $249.99 after a $100 MIR and the Mini 110 will sell for $199.99 after the existing Mini 1151 stock is depleted. Both machines will require a 2-year mobile broadband contract.