Verizon Intuition by LG brings 4G phablet fun on September 6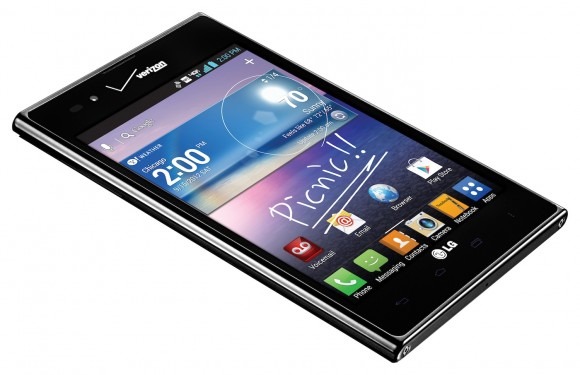 Verizon has officially unveiled the Intuition by LG, the carrier's LTE version of the 5-inch Optimus Vu phablet, with sales kicking off September 6. Priced at $199.99 with a new, two-year agreement, the LG Intuition will come preloaded with the company's QuickMemo app, intended to gather up handwritten notes and sketches made with the bizarrely named "Rubberdium" stylus.
There's also LG Tag+ loaded, which uses NFC to control settings and modes, and Verizon will throw a couple of programmable NFC stickers into the box. These can be used for automatically kicking the Intuition into silent mode, for instance, when you tap it on your nightstand. The Intuition comes preprogrammed with four different modes: Car, Office, Sleep and User.
The 5-inch display uses the unusual 4:3 aspect ratio and has a 650 NIT backlight for easier outdoor use; there's also an 8-megapixel main camera, with LED flash and 1080p Full HD video recording, along with a front-facing 1.3-megapixel camera. OS is Android 4.0 Ice Cream Sandwich, running on an 1.5GHz dual-core processor with 1GB of RAM, while connectivity includes Bluetooth 3.0+HS and that all-important LTE, complete with mobile hotspot sharing for up to ten WiFi-tethered devices.
Online sales kick off on September 6, with in-store sales following on September 10. Of course, with Samsung's Galaxy Note II freshly announced, it's entirely possible that Verizon and LG have collectively waited too long to bring the Intuition to market.