Verizon HTC Imagio Windows Phone review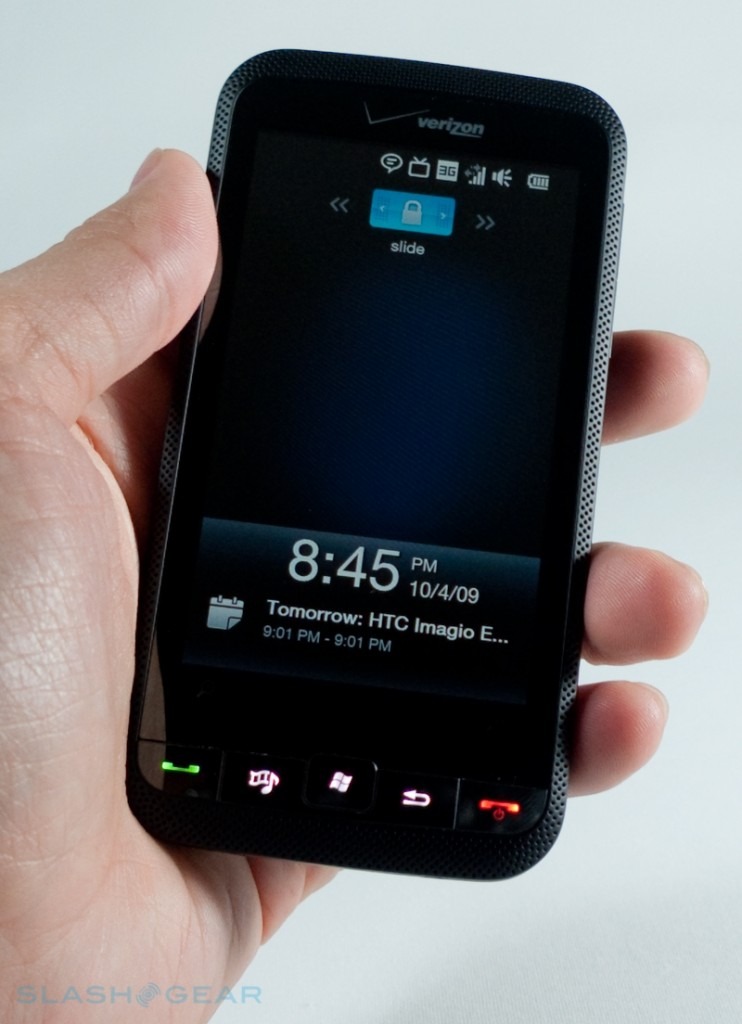 A thoughtful person might look at the Verizon Imagio and decide that it's almost HTC delivering the Touch HD (Review part 1 & part 2) that their US audience never officially had. A comparatively large touchscreen, slender casing and 5-megapixel camera certainly tally with what the Touch HD offered; still, it's been almost a year since we reviewed the GSM phone, so does the Imagio deliver the goods with Windows Mobile 6.5? Click to Read Windows Mobile 6.5 Review
First impressions are good. The Imagio has a 3.6-inch WVGA resistive touchscreen, and it's a bright and clear panel. In terms of size it falls a little short of the Touch HD (which has a 3.8-inch display) but comes in on a par with the HTC Touch Pro2; however the Imagio measures 117 x 61 x 13 mm and as such is considerably thinner than the Pro2. Hardware controls are limited to volume on the top right-hand side and a row of five keys – call, media, Windows, back and end/power – under the display, together with a touch-sensitive zoom strip.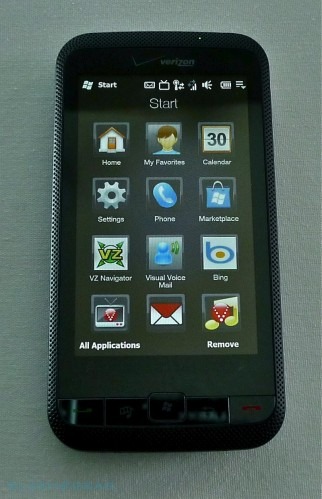 Ports, we're pleased to see, include both HTC's ExtUSB (which is compatible with miniUSB) and a 3.5mm headset jack. There's also a pull-out stylus and, on the back, a flip-out silver kick-stand for propping up the phone in landscape orientation. Hidden under the battery cover lurks the microSD slot, though Verizon bizarrely don't include a microSD card in the box.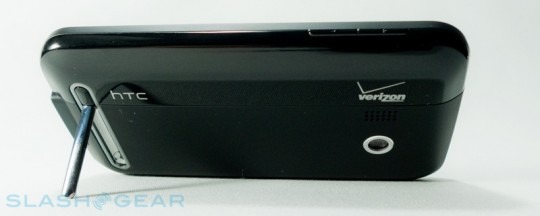 The Imagio is a so-called Global phone, thanks to its dual support of CDMA and GSM networks. In the US, it uses Verizon's CDMA and EVDO Rev.A for voice and data; however, it also includes a quadband GSM (850/900/1800/1900) and 2100 UMTS HSPA connection for seamless use while travelling. Other connectivity includes WiFi b/g and Bluetooth 2.0.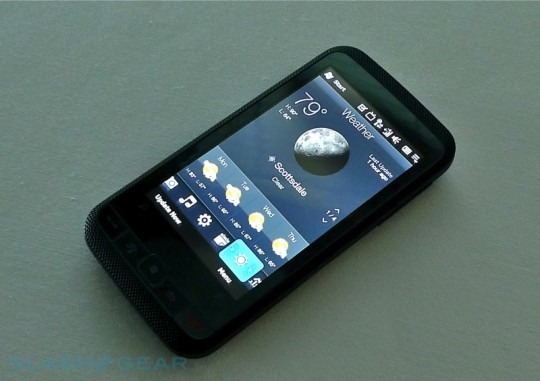 For all the details – and opinion – on Microsoft's new smartphone platform, check out our Windows Mobile 6.5 review. That covers the underlying OS, the Windows Marketplace for Mobile app store, MyPhone backup and all of Microsoft's other tweaks and amendments to its Windows Phone platform. On top of that, HTC load the latest version of TouchFLO 3D, the company's own finger-friendly UI, which works well to keep the stylus in its silo most of the time.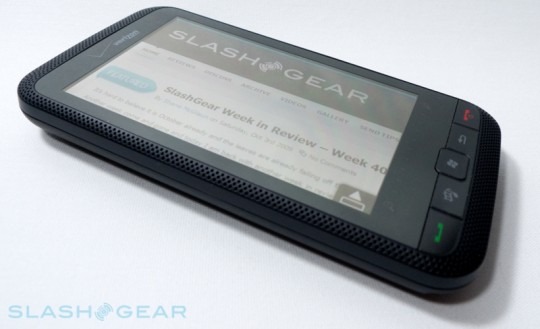 HTC also preload the Opera Mobile browser as default, complete with a search box in the internet tab in TouchFLO 3D. Even so, Opera took between 4 and 7 seconds to load each time, which seemed more sluggish than on other HTC devices we've tested and that use the same 528MHz Qualcomm MSM7200A processor. Here the chipset is paired with 288MB of RAM and a 512MB ROM, and we're wondering whether HTC should finally retire the CPU and look to something speedier to give their Windows Mobile 6.5 range the backbone it requires. Still, once loaded Opera Mobile renders well and is responsive, with zooming controlled either by a double-tap (there's no pinch-zoom or other multitouch gestures) or the more precise touch-sensitive strip between the screen and the hardware keys.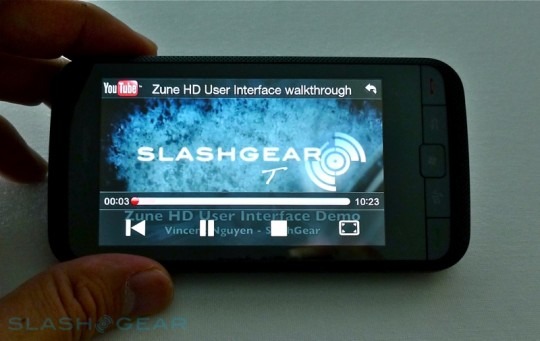 HTC also load their YouTube client, familiar from previous handsets, and while Microsoft's own Internet Explorer Mobile 6 now supports Flash Lite we'd still rather use the standalone app for streaming video. Search and categories work well, and in fact the only thing we wish HTC would add is upload functionality. The Imagio has a 5-megapixel camera with autofocus and a digital zoom, and is capable of recording video clips. Before the iPhone gained touch-to-focus, HTC had been putting it on their own handsets, though we found the autofocus a little sluggish to respond. Still, both stills and video are reasonable quality, if a little lacking behind that of recent handsets from Samsung and Sony Ericsson.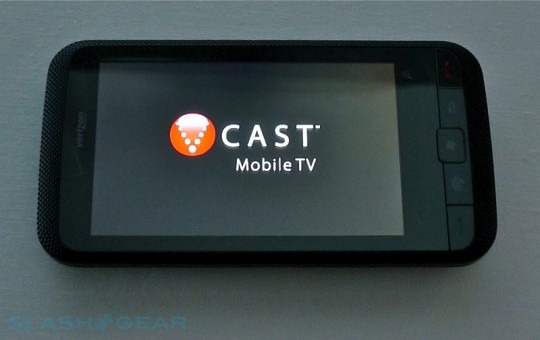 Verizon also load a few apps of their own onto the Imagio, namely V Cast Music, Video, and Mobile TV. Here the broad, bright display really has a chance to shine, and the video streaming apps particularly are more usable than on other, smaller handsets. The kickstand, while a simple addition, does make a neat difference to using the Imagio for media playback, and when paired with a set of Bluetooth A2DP wireless stereo headphones it adds up to a decent entertainment setup.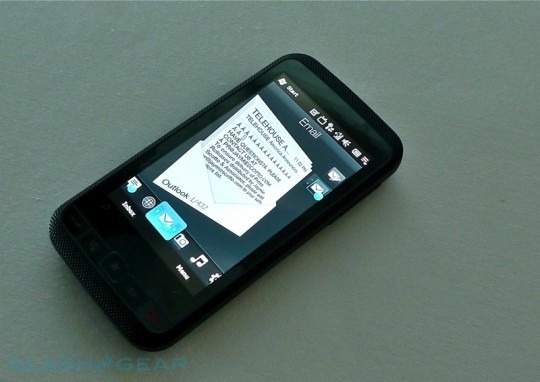 Of course, a Windows Phone is more than just media and browsing, and the Imagio doesn't disappoint when it comes to PIM and communications tasks. Windows Mobile 6.5 supports POP, IMAP, webmail and Exchange email accounts, together with SMS and MMS messaging and Windows Live instant-messaging, and the large display leaves plenty of space for the on-screen QWERTY keyboard. We did find ourselves missing the typing speed of a multitouch-capable capacitive display, which we've found can handle slightly overlapping taps when thumb-typing, however.
As for voice calls, the Imagio performed well and has a loud speakerphone, though we wish the excellent Straight Talk system – which uses a microphone array and DSP – had been carried over from the Touch Pro2. Battery life from the large 1,500mAh pack was easily sufficient for a full day's use with ActiveSync push-email turned on, though we found ourselves recharging each night as it wasn't quite enough to run through two whole days. More frugal email settings, or lowering the default brightness (which is usually controlled by an ambient light sensor) might eke that out some more.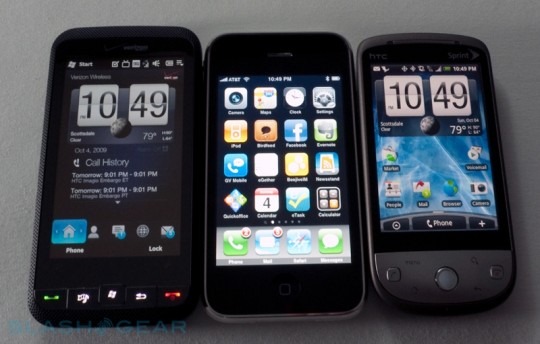 Despite the size, shape and form-factor, the Verizon HTC Imagio doesn't even set out to be the mythical (and clichéd) "iPhone killer". Instead it's a decent business device, complete with enough media functionality to keep you occupied between meetings. We can't help but feel that HTC need to consider upgrading their standard smartphone processor, but aside from some slight start-up lag to Opera the Imagio puts in reasonable performance. At $199.99 (after a $100 mail-in rebate and subject to a new, two-year agreement), though, it does fall on the expensive side of the tracks.
Verizon HTC Imagio Unboxing and walkthrough video:
[vms 1d157187ee1cf9e896d0]
Windows Mobile 6.5 Demo:
[vms b9530df88f7f002e78ea]