Verizon HP Mini 1151NR on sale May 17th?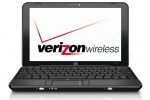 Verizon and HP's netbook collaboration – the EVDO Rev.A equipped HP Mini 1151NR – is set to drop in stores
, according to the latest tipsters.  Stock is already believed to be arriving with retailers, with a retail price expected to be around $199 with a 2-year contract and following a mail-in rebate.
The Mini 1151NR itself is expected to be a pretty basic model, with an Intel Atom N270 1.6GHz processor and 1GB of RAM.  Connectivity is likely to include WiFi and possibly Bluetooth, plus there are two USB ports and a 2-in-1 memory card reader.
As with all of these bundled-3G netbook deals, the value depends on just how much you want to avoid a USB dongle sticking out of the side of your netbook.  With monthly fees of $40 or $60 per month, you're paying between $960 and $1,440 over the course of your contract, and have 3G that's tricky if not unwieldy to use with other laptops.