Verizon Galaxy S III pre-orders start June 6th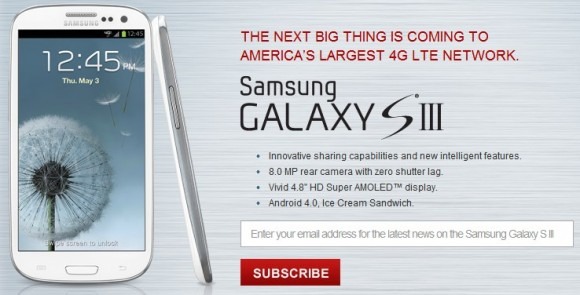 We heard last night that all four major US carriers would be seeing the Galaxy S III this month, and Verizon is the first out of the gate with pre-order details. Customers will be able to pre-order either a 16GB or 32GB Galaxy S III starting from June 6th at 7am EST. The 16GB model will cost $199.99, while the 32GB model will set you back $249.99.
Looks like Verizon is making a return to the $199.99 pricing of old, something which was briefly bumped to $299.99 for new LTE handsets. We're sure the pricing will go down a treat for those looking to get their hands on the latest and greatest from Samsung. The American Galaxy S III will feature a dual-core 1.5Ghz Qualcomm Snapdragon S4 processor, 2GB of RAM, an eight megapixel camera, Gorilla Glass 2 covering the 4.8-inch 720p Super AMOLED display, and a 2,100 mAh battery.
Some might be disappointed at the lack of the quad-core Exynos processor, but we wouldn't worry about it too much. The Snapdragon S4 chip has proven itself more than worthy in phones like the HTC One S and One X, plus you'll be getting LTE connectivity while the international mode is saddled with HSPA+. If this is definitely your next phone, keep an eye on Verizon's site, and furiously click refresh come Wednesday morning.
[via Phone Scoop]