Verizon flips the 5G switch in six more cities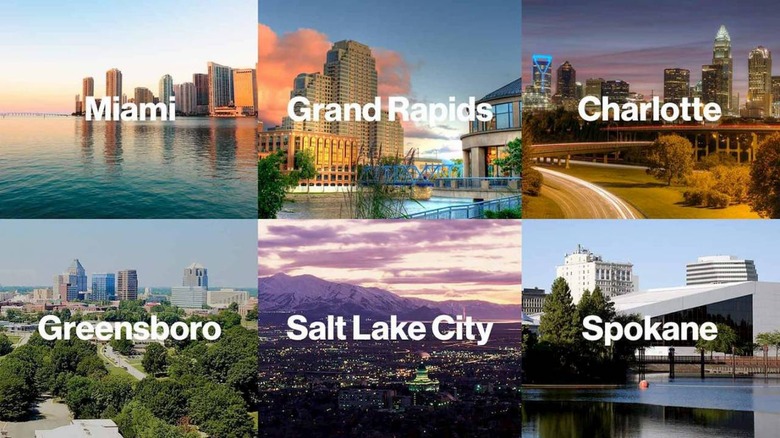 With 2019 quickly winding down, it looks like Verizon is rolling out its 5G network up until the very end of the year. Yesterday, the company launched its 5G Ultra Wideband network in parts of Memphis, Tennessee, and now it's adding another six cities to the list. As with all of Verizon's roll outs so far, 5G service is only limited to certain portions of these cities, so you might have to do a little traveling before you actually find a 5G connection.
The six cities that are getting 5G service today include Charlotte, North Carolina; Greensboro, North Carolina; Grand Rapids, Michigan; Miami, Florida; Salt Lake City, Utah; and Spokane, Washington. The addition of these six cities brings the total number of cities that support Verizon 5G up to 28.
Throughout the year, Verizon has been saying that it plans to have 5G service available in 30 US markets by the end of the year. With these six now counting toward that goal, Verizon is still short two cities, so don't expect this to be the last 5G announcement the carrier makes in 2019.
It's been a busy week for Verizon too. In addition to launching 5G in these six cities today and Memphis yesterday, it rolled out service to parts of Hoboken, New Jersey on December 18th; Des Moines, Iowa on December 17th; and Los Angeles, California on December 16th.
Verizon lists all of the locations where service is available in its announcement today, so if you live in one of the six cities getting 5G today, be sure to check that out to see where you'll find coverage. With two cities left to goal before Verizon meets its goal for the year, we'll probably be hearing more from the company very soon, so stay tuned for that.