Verizon FiOS DVR control goes mobile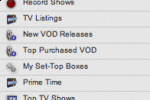 Verizon took their FiOS DVR control to a whole new level today when they introduced a mobile web version of their FiOS TV Central feature. Before today, you could only access this feature through your desktop web browser or on select LG phones that featured a native app for it like the Voyager or the enV 2.
But now, the update makes it so any phone that has a decent web browser can access the FiOS TV Central feature. This allows you to program your IPTV recorder while you're away from home. You can even use it on non-Verizon phones like the iPhone.
Other aspects of this new feature include the ability to add or remove shows from your recording line up, manage up to three DVRs and more. You can access this latest FiOS TV Central feature for free. Though it's currently in beta, the full version should be available soon.