Verizon Fascinate: $199.99 online Sept 8th; in-store Sept 9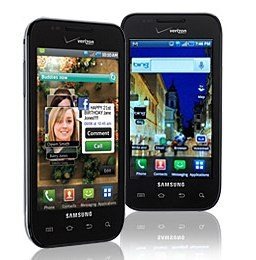 Verizon has officially announced that the Samsung Fascinate – one of the last Galaxy S family smartphones to arrive as a US variant – will go on sale tomorrow, September 8th, online, followed by in-store availability on Thursday September 9th.  The Fascinate – which has a 4-inch AMOLED display, 1GHz Hummingbird processor and runs Android 2.1 – will be priced at $199.99 after a $100 mail-in rebate and presuming a new, two-year agreement.
The Fascinate is the first of the Galaxy S series to use CDMA rather than UMTS/HSPA for its connectivity.  Unfortunately it's not a world phone, so there's no GSM connection for use outside of North America.
Verizon will also offer a number of accessories, including a charging cradle for $29.99 that functions as a speakerphone dock and comes with a "Desk Home" app for using the Fascinate as a widget/search display, and a Car Dock for $39.99 for using the Fascinate as a PND.  Finally there's a Backup Battery Charging Station, for $39.99, which can rejuice both the supplied second battery and the Fascinate itself.
Press Release:
Samsung Fascinate™, a Galaxy S™ Smartphone, Available Tomorrow on the Verizon Wireless Network

IRVINE, Calif., Sept. 7 /PRNewswire/ — Verizon Wireless and Samsung Telecommunications America (Samsung Mobile) today announced that the Samsung Fascinate™, a Galaxy S™ smartphone exclusively from Verizon, will be available online on Sept. 8 and in Verizon Wireless Communications Stores on Sept. 9 for $199.99 after a $100 mail-in rebate with a new two-year customer agreement.

Powered by Android 2.1™, the Fascinate refines customers' social networking experiences with its Super AMOLED™ Screen Technology, advanced touch screen capabilities, Samsung 1 GHz Cortex A8 Hummingbird Application Processor, and virtual QWERTY keyboard featuring SWYPE technology. Additionally, the Fascinate comes pre-loaded with Amazon's Kindle for Android app, and it boasts an array of accessories, including:

Charging Cradle – Doubles as a phone charger and includes a micro USB wall adapter so customers can view movies, display digital photos, and listen to music. It can also be used as a desktop speakerphone to make hands-free calls, and it comes preloaded with the Samsung "Desk Home" application, which allows customers to switch brightness levels from day to night and provides one-touch access to Samsung Widgets and Bing Voice Search. The charging cradle is available for $29.99.

Car Dock – Attachable to the windshield or dashboard, the car dock displays turn-by-turn GPS navigation instructions, rotates freely between landscape and portrait modes, and features a preloaded Samsung "Car Home" application, giving customers access to everything the "Desk Home" app can do while on the go. The car dock is available for $39.99.

Backup Battery Charging System – Includes a 1500 mAH battery, battery charger and Y-cable for charging a phone and spare battery simultaneously. It is available for $39.99.

Pricing and Plan Information

Verizon Wireless customers who purchase the Samsung Fascinate will receive the mail-in rebate in the form of a debit card; upon receipt, customers may use the card as cash anywhere debit cards are accepted. Samsung Fascinate customers will need to subscribe to a Verizon Wireless Nationwide Talk plan (beginning at $39.99 monthly access) and an Email and Web for Smartphone plan (beginning at $29.99 for unlimited monthly access). For additional information on Verizon Wireless products and services, visit a Verizon Wireless Communications Store, call 1-800-2 JOIN IN or go to www.verizonwireless.com.

About Verizon Wireless

Verizon Wireless operates the nation's most reliable and largest wireless voice and 3G data network, serving more than 92 million customers. Headquartered in Basking Ridge, N.J., with 79,000 employees nationwide, Verizon Wireless is a joint venture of Verizon Communications (NYSE, Nasdaq: VZ) and Vodafone (LSE, Nasdaq: VOD). For more information, visit www.verizonwireless.com. To preview and request broadcast-quality video footage and high-resolution stills of Verizon Wireless operations, log on to the Verizon Wireless Multimedia Library at www.verizonwireless.com/multimedia.