Verizon, Disney launch Mickey Mouse edition GizmoWatch for kids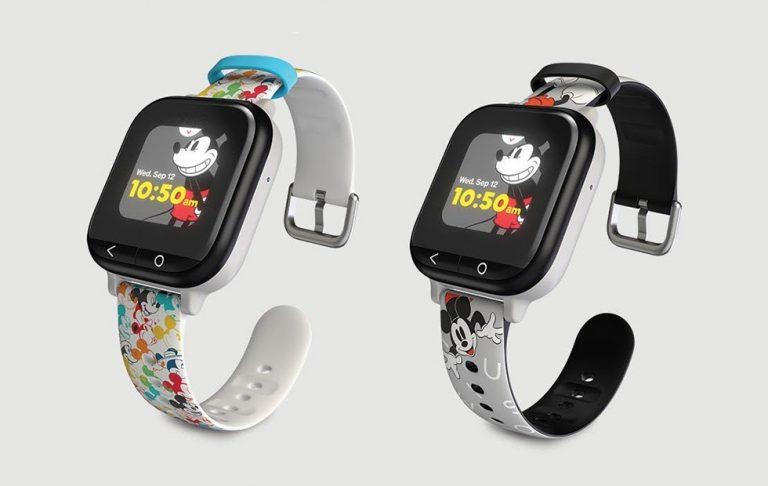 Verizon and Disney have teamed to launch a special Mickey Mouse 90th Anniversary version of the GizmoWatch for kids. The carrier started offering this wearable back in September; the new version features iconic Mickey Mouse artwork to commemorate the character's latest anniversary. The kid-friendly wearable is available through Verizon starting today.
The GizmoWatch is a smartwatch designed for kids that works on Verizon's 4G LTE network. The wearable has a vaguely Apple Watch-like design, the ability to receive calls from up to 10 phone numbers (chosen by parents), and the ability to send up to 20 different pre-chosen text messages to approved contacts.
In addition to its cellular functionality, GizmoWatch has activity-tracking features to encourage childhood fitness. The wearable monitors how many steps the child takes during the day and provides a way to have a friendly competition with friends. There's also mention of a "hopscotch" tracker.
The watch also packs some fun for kids, namely the ability to transform their voice into various characters, including a robot. The watch doesn't depend on apps or heavy data use, and for that reason it has an atypically long battery life of up to four days per charge.
Parents are able to control the experience using the Verizon GizmoHub app. With this, parents can pause the watch's activity during certain times, such as while doing homework or eating, and to also send messages, make calls, and see the child's location in real time. Parents are able to send to-do list items to kids, as well as reminders, to help manage a schedule or ensure chores are finished.
The special Disney version of the watch has the same functionality as the regular model. The difference, of course, is in the design: the watch features a band and wallpaper with classic and newer Mickey Mouse artwork. This isn't the first 90th anniversary-themed item Disney has approved — there's also the special Beats headphones, for example.
The GizmoWatch Mickey's 90th Anniversary edition wearable is available from Verizon now for $179.99 USD; the add-on monthly price is $5/month for existing plans.