Verizon Botched 'Private Sale' Frustrates Would-Be Storm Buyers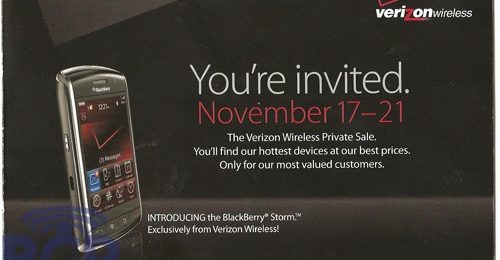 Verizon Wireless seem to have taken what should've been a glittering device launch and turned it into a whole lot of ill-will, only made worse by the fact that it's their "most valued customers" that they've frustrated.  The carrier distributed flyers inviting said-customers to attend a Private Sale from November 17th to the 21st, plastered with images of the BlackBerry Storm 9530 and the tagline "Introducing the BlackBerry Storm".  Cue interested would-be buyers turning up at stores with flyer in hand, only to be told that there are no Storms to be played with, no preordering possible, and only the promise to be called back on the general launch date to see if they're still interested.
Unsurprisingly that's led to quite a few disappointed people, who thought they'd be able to pick up a Storm – or at least try one out – four days ahead of general availability.  Those who rang the number on the flyer, once they managed to actually get through and suffer 30 minute hold times, were told to either call back or simply turn up on November 21st like everyone else.
Now, admittedly there's nowhere on the flyer that actually says "you can buy the Storm early at this event", but it's hardly surprising that recipients believed that would be the case.  It remains to be seen how many of those customers involved will go back on Friday for a chance to look at the Storm (and maybe, if they're lucky, even buy one) with the rest of the masses.